The Lilliput 12G-SG Signal Generator is an SDI signal generator designed for the testing of any video equipment which accepts up to a 4K signal over BNC SDI inputs.
A wide range of uses are applicable to this unit - the most common is in the setup of cameras and video villages, however it is also used for testing large video display walls, workflow systems for edit suites and a great deal of other A/V and Broadcast situations.
It has a comprehensive suite of tools - some highlights are listed below:-

Pattern Measurement

To test color temperature and gray scale of monitor with various types of patterns, such as color bar, monochrome display and customized pictures.

Preset & importable patterns
Custom : Free to create any color picture, based on two different color space -- RGB or YCbCr.
Picture : Built-in a plenty of preset patterns, and user-definable pictures imported to the generator to meet various test requirements.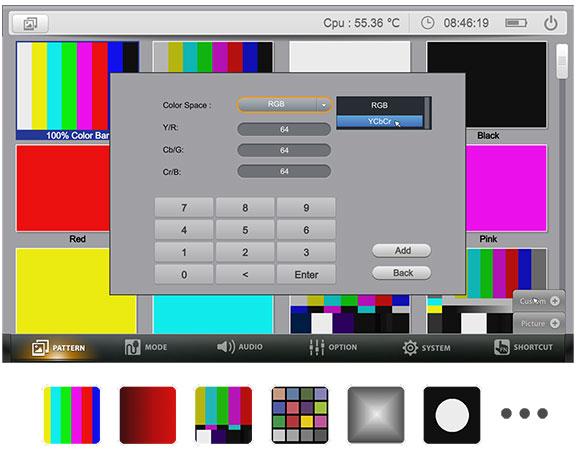 Signal Compatibility
Supports SD, HD, 3G, 6G and 12G-SDI signals; SDI and Fiber signals up to 4K 60Hz. SDI conversion among of different link structures, SQ and 2SI.

Mode Options : Selection among of 12G-SDI/6G-SDI/3G-SDI/HD-SDI/SD-SDI signal formats.
Raster Options : Different resolutions options corresponding to different Modes.
Refresh Options : Different Raster rates corresponding to different Modes & Raster.
Sampling Options : Different GBR & YCbCr sampling rates based on the above options.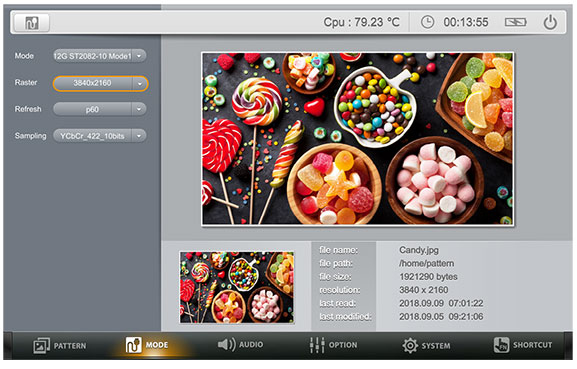 Signal Output Types

Selectable from the internal menus and setup system, the SG-12G unit has a full compliment of output signals to test with. The table below details the 12G and 6G signals supported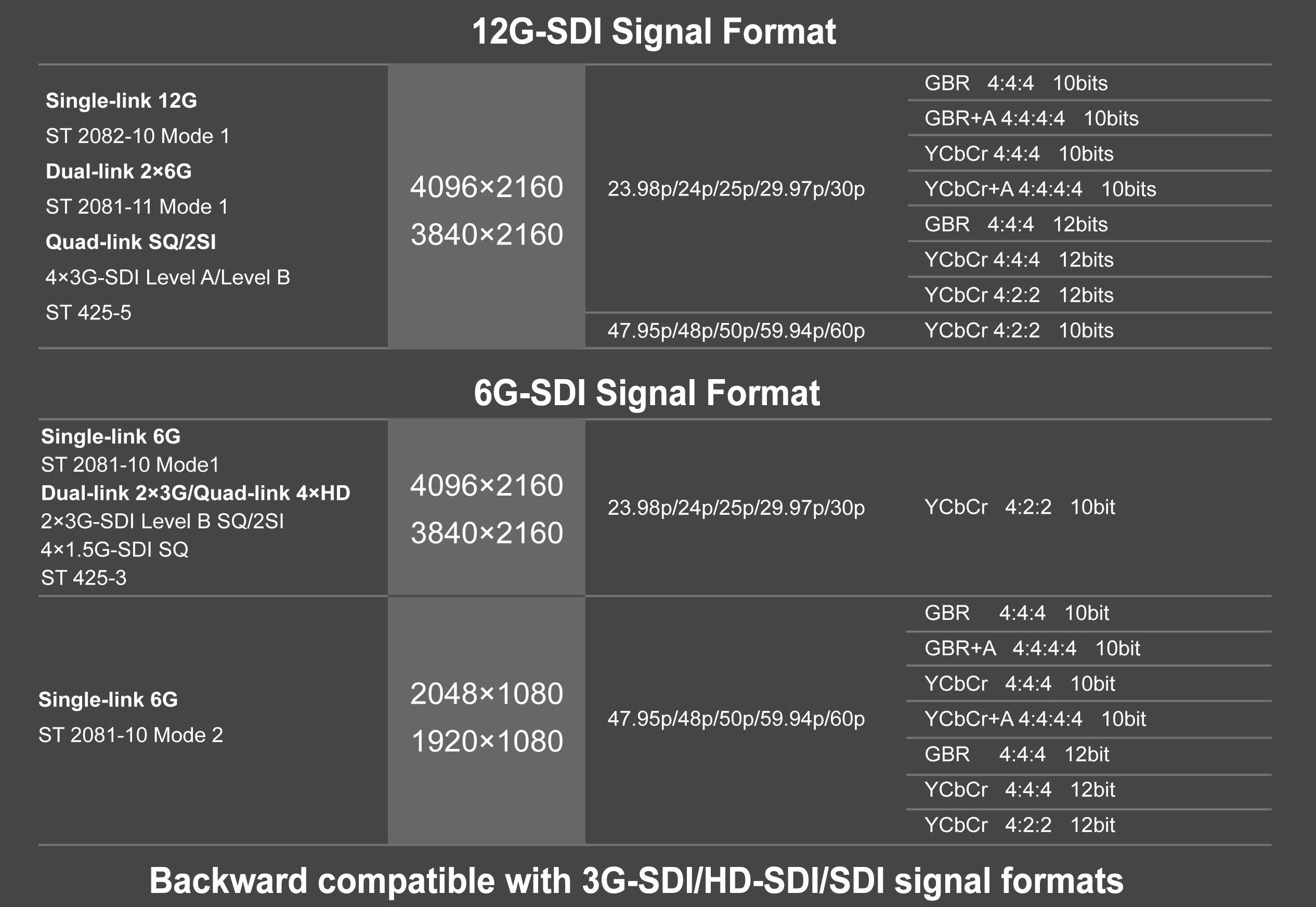 Audio Monitoring
A comprehensive audio monitoring tool supports up to 16 channels embedded AES/EBU audio, with -60dB to 0dB range. And a 20 to 20000 frequency.

Channel Options : 16-channel SDI audio ranges from CH0 to CH15 for optional.
Switch Options : Off, On, All Off and All On are optional for 16-channel audio switch.
Phase Options : Options among of 0, 90, 180 and 270 for phase.
Frequency Options : Freq options can be customized from 20 to 20000 byusers.
DB(-) Options : Freq options can be customized from -60bB to 0dB by users.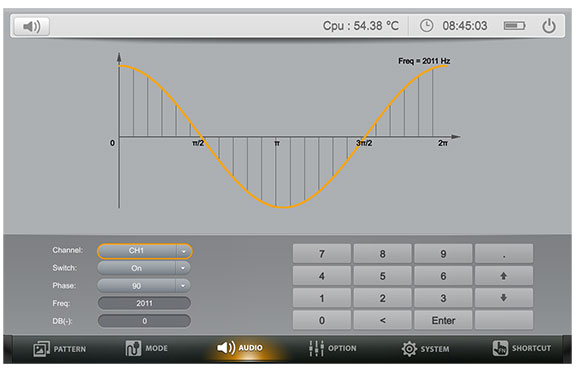 Display
Aspect Ratio
16:10
Brightness
400cdm²
Contrast Ratio
800:1
Display Screen
7" IPS
Resolution
1280 x 800
Viewing Angle
178°H / 178°V
Input
Input Signal
REF x1, USB x1
Connections
SDI Video Output
12GSDI x 2 // 3GSDI x2 // **Optional Fiber Output Module
Size
Dimensions
264 x 169 x 42mm
Weight
3KG
Power
Battery
Built in - 5000mAh
Current
<=2.3 (12V)
Input Voltage
DC10-15V
Power Consumption
<= 27W
Environment
Operating Temperature
-10°C to 60°C
Storage Temperature
-30°C to 70C
SG-12G - SDI Signal Generator / Test Unit for up to 4K/60 12G Signals
Brand: Lilliput
Product Code:

SG-12G - SDI Signal Generator (up to 4K/60 12G)

Availability:

In Stock
5,998.80€

Ex Tax: 4,999.00€






Customisation Options Are Available


You can customise many options with all units of Lilliput product - from custom logos to input types to customised bezel and mounting options. To discuss your requirements please contact us via email Here or give us a call on +44 (0)8450068868