The Lilliput 779GL-70NP/C/T is a 7 inch 16:9 LCD capacitive touchscreen monitor with HDMI, DVI VGA and composite video inputs. Compatible with both Windows, Linux and Android natively, this monitor is suited to many uses - such as education, process control, access control - as well as being a handy companion for the home coder.


Looking for a monitor to use in a Teleprompter? No problem - this model features both X/Y Flip and Mirroring of the input image, making it an ideal tool for the job.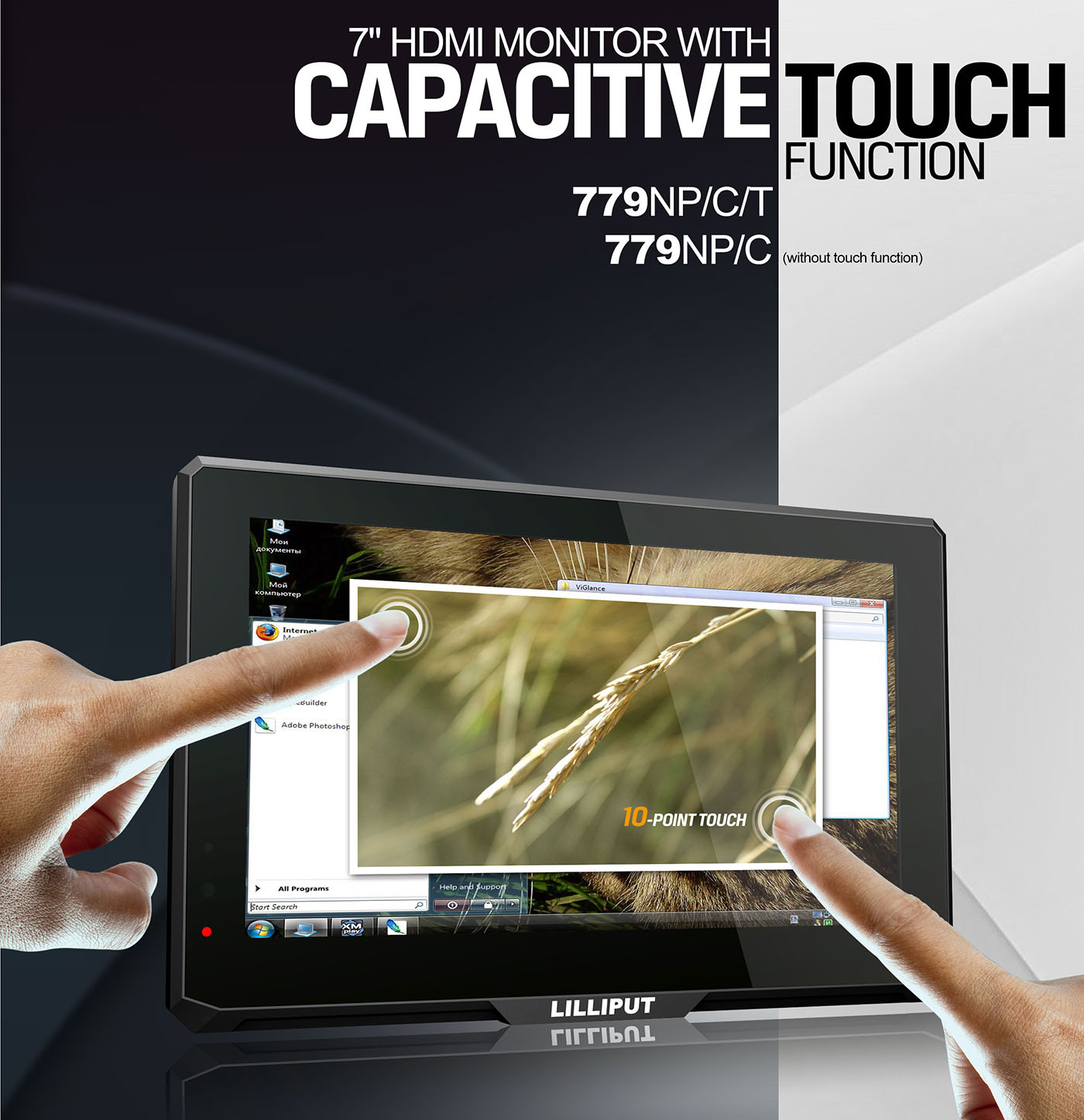 Excellent Display Clarity and Touchscreen Fidelity
Featuring a 7" 1000nit bightness panel with a 800×480 HD resolution, the Lilliput 779GL-70NP/C/T is a top flight piece of small screen hardware. With 800:1 high contrast, 170° wide viewing angles, and a high density laminative Capacitive Touchscreen you get an overall smooth and polished experience.
Wide Voltage Power & Low Power Consumption
Built with high level components to support anywhere between a 7 and 24V power supply voltage, the 779GL-70NP/C/T can be used in the the field, in a vehicle, as well as comfortably in a studio or home office. It's versatility and adaptability make it an excellent choice for

I/O control interface
In the form of a small cable which attaches to the side of the monitor, the I/O control interface has functions such as connecting with reverse trigger line in car reversing system, and
computer control so you can switch on/off the host machine. Functions also can be customized to meet different demands - please send us a message and we'll be happy to discuss it!
Lux Auto Brightness (optional)
A light sensor designed to detect ambient lighting conditions adjusts the panel's brightness automatically,
making viewing more convenient & more power efficient.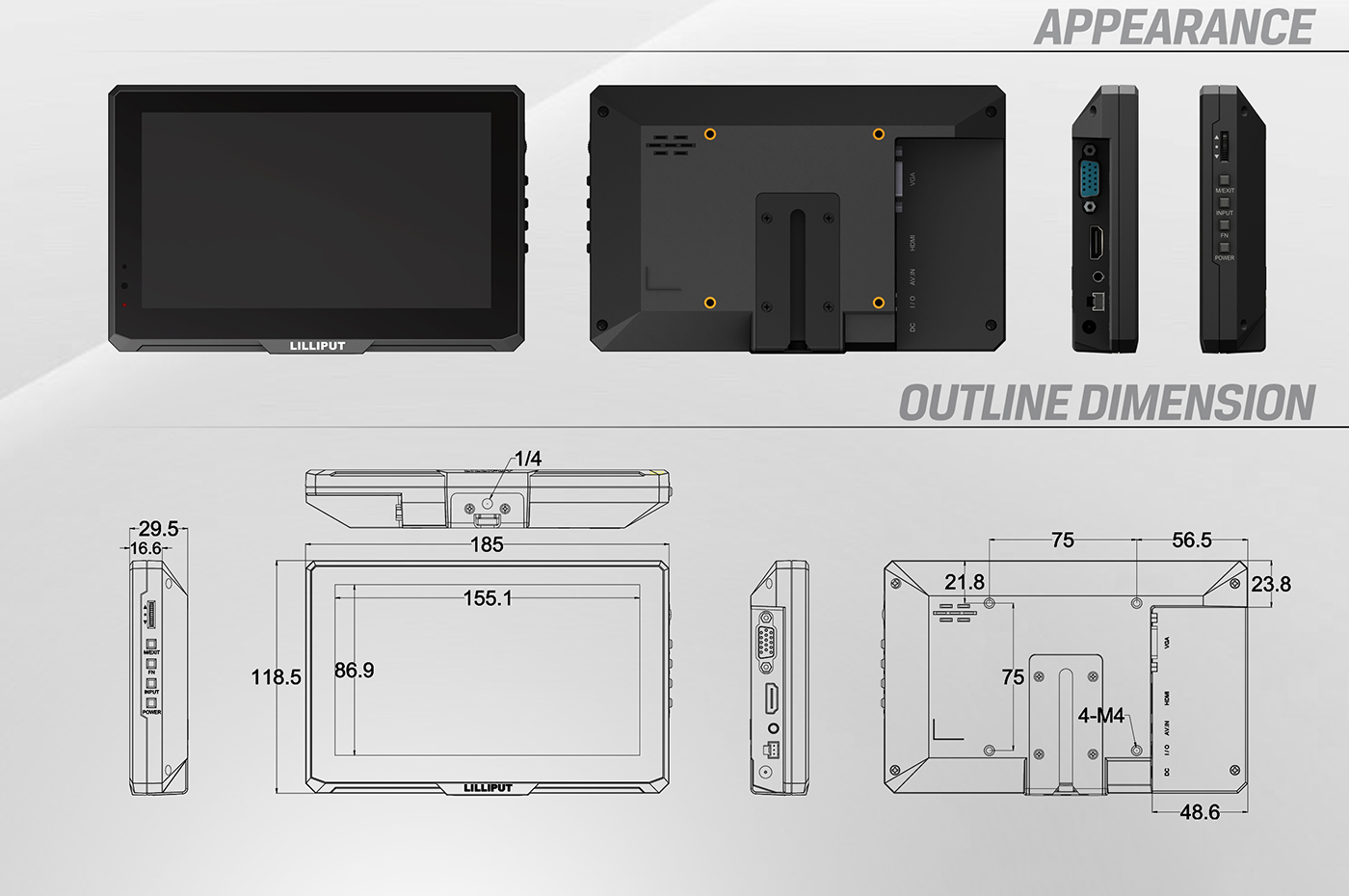 Monitor Specification
Screen Size (diagonal)
7 inch
Aspect Ratio
16:9
Native Resolution
800×480 (native)
Maximum Resolution
1920×1080 (maximum)
Viewing Angle (degrees)
140º x, 120º y
Brightness Ratio (cd/m2)
400
Contrast Ratio
500:1
Backlight
LED
Video Inputs
HDMI, DVI, VGA, composite
Touchscreen Technology
Capacitive multitouch, USB
Input Power
DC 12V
Operating Temperature
-20 ~ 60 degrees
Mounting Options
VESA 75, ¼ inch BSW thread, vertical slot mount mechanism
Contents Of Box
Product
1 x 779GL-70NP/C/T monitor
Connection Cables
1x HDMI (touch) cable, 1x VGA (touch) cable, 1 x I/O control line, 1 x A/V input cable,
Power Adaptor
1x DC 12V plug (available in UK, US and EU style), 1x in-car cigarette lighter DC 12V adapter
Mounts and stands
Mount options available
Additional accessories
Dimensions
Height (mm)
118.5
Width (mm)
185
Depth (mm)
29.5
Weight (g)
415
Monitor Specification
Screen Size (diagonal)
7 inch
Aspect Ratio
16:9
Native Resolution
800×480 (native)
Maximum Resolution
1920×1080 (maximum)
Viewing Angle (degrees)
140º x, 120º y
Brightness Ratio (cd/m2)
400
Contrast Ratio
500:1
Backlight
LED
Video Inputs
HDMI, DVI, VGA, composite
Touchscreen Technology
Capacitive multitouch, USB
Input Power
DC 12V
Operating Temperature
-20 ~ 60 degrees
Mounting Options
VESA 75, ¼ inch BSW thread, vertical slot mount mechanism
Contents Of Box
Product
1 x 779GL-70NP/C/T monitor
Connection Cables
1x HDMI (touch) cable, 1x VGA (touch) cable, 1 x I/O control line, 1 x A/V input cable,
Power Adaptor
1x DC 12V plug (available in UK, US and EU style), 1x in-car cigarette lighter DC 12V adapter
Mounts and stands
Mount options available
Additional accessories
Dimensions
Height (mm)
118.5
Width (mm)
185
Depth (mm)
29.5
Weight (g)
415
Lilliput 779GL-70NP/C/T - 7" HDMI Capacitive Touchscreen monitor
Brand: Lilliput
Product Code:

779GL-70NP/C/T

EAN:

6950821600979

Availability:

In Stock
Related Products






Customisation Options Are Available


You can customise many options with all units of Lilliput product - from custom logos to input types to customised bezel and mounting options. To discuss your requirements please contact us via email Here or give us a call on +44 (0)8450068868