Lilliput PC-1202 - 12" inch Panel PC
The PC1202 is a 12" panel PC with an Intel i5-430UM Processor compatible with Windows 7 and Windows 10. Sporting a 5 wire touchscreen and multiple mounting options, the PC1202 is ideal for industrial applications including process control, entry admission, vehicle tracking / ticketing systems and industrial weighing.
Panel PC Specifications
Processor
Intel Core i5-430UM (3M Cache, 1.20Ghz)
RAM Memory
4G DDR3
Internal Storage
32GB Internal SSD mSATA - upgradeable to 512Gb (optional)
Graphics
Integrated
Optical Drive
None (external USB optional)
Networking
10/100 LAN
I/O Connections (additional)
USB 2.0 Port x 4 - Headphone Jack - DC Power Input - RS232 x 4/RS485 x 4 - LAN -
Chassis
Aluminium outer chassis
Screen Size (diagonal)
12 inch
Aspect Ratio
4:3
Touchscreen Technology
5 wire resistive
Software Installed
None Installed (Windows 7, 8, 10 optional)
Input Power
12V
Mounting Options
VESA 75, Front Mount clips
Contents Of Box
Product
PC1202 Panel PC
Connection Cables
PS2 Adpator cables
Power Adaptor
12V Power Adaptor (UK, EU and US fittings available)
Mounts and stands
Rear mounting bracket (optional)
Additional accessories
Driver disk and touchscreen Software
Dimensions
Height (mm)
263
Width (mm)
340
Depth (mm)
48
Weight (g)
3.84 kg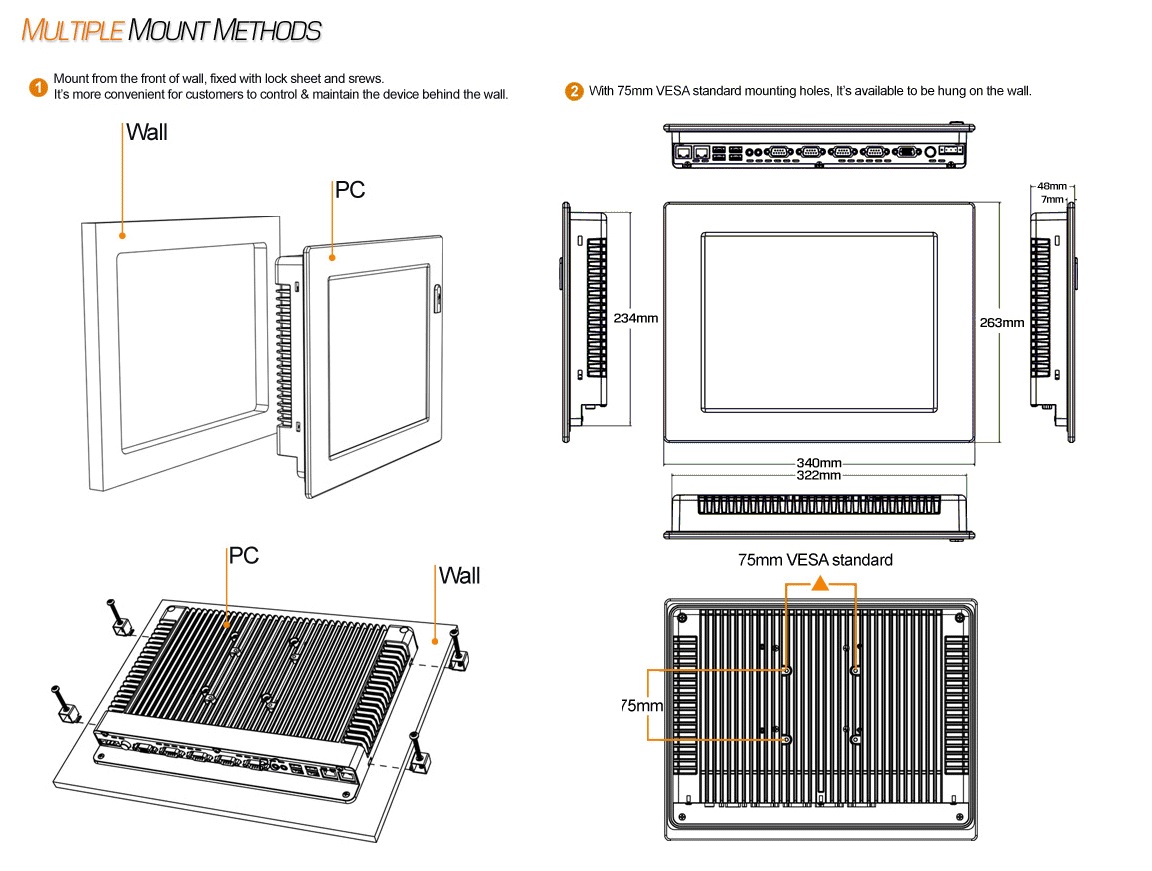 Customisation Options Are Available

You can customise RAM, hard drive and operating system with the PC-1202 please contact us via the link Here

Intel Atom D525 processor

The PC1202 is fitted with the industrial standard Atom D525 processor, a superbly reliable processor that runs at low heat production but remaining high power for processor heavy applications.

Aluminium alloy frame

The PC1202 has a lightweight aluminum alloy comprising it's frame, giving it the strength to endure while still remaining lightweight for portable operations.

Built for industry

The PC1202 is a system designed around the industrial market, with it's metal outer frame, and 5 wire touchscreen - this system is reliable and tough at a fraction of the price of other industrial standard panel.

5 Wire resistive touchscreen

With a 5 wire resistive touchscreen the PC1202 is able to stand greater amounts of use without failing.

Multiple mounting options

The PC1202 can be mounted in a variety of ways - using the VESA mounting on the rear of the unit or flushmount the system using the front mounting clips. Also available - our rackmount mounting kits let you fit PC1202 into your rack system for server management you can count on.
Panel PC Specifications
Processor
Intel Core i5-430UM (3M Cache, 1.20Ghz)
RAM Memory
4G DDR3
Internal Storage
32GB Internal SSD mSATA - up to 512Gb available (optional)
Graphics
Integrated
Optical Drive
None (external USB optional)
Networking
10/100 LAN
I/O Connections (additional)
USB 2.0 Port x 4 - Headphone Jack - DC Power Input - RS232 x 4/RS485 x 4 - LAN -
Chassis
Aluminium outer chassis
Screen Size (diagonal)
12 inch
Aspect Ratio
4:3
Touchscreen Technology
5 wire resistive
Software Installed
None Installed (Windows 7, 8, 10 optional)
Input Power
12V
Mounting Options
VESA 75, Front Mount clips
Contents Of Box
Product
PC1202 Panel PC
Connection Cables
PS2 Adpator cables
Power Adaptor
12V Power Adaptor (UK, EU and US fittings available)
Mounts and stands
Rear mounting bracket (optional)
Additional accessories
Driver disk and touchscreen Software
Dimensions
Height (mm)
263
Width (mm)
340
Depth (mm)
48
Weight (g)
3.84 kg
Lilliput PC-1202 - 12" inch Panel PC with Intel i5 processor
Brand: Lilliput
Product Code:

PC-1202

Availability:

In Stock






Customisation Options Are Available


You can customise many options with all units of Lilliput product - from custom logos to input types to customised bezel and mounting options. To discuss your requirements please contact us via email Here or give us a call on +44 (0)8450068868