The Lilliput OF1016-NP/C is a 10.1 inch 16:9 LCD monitor with HDMI and VGA video inputs. As our highest resolution HDMI 10" monitor, it has a 1920 x 1200 pixel panel, and 1000:1 contrast ratio - allowing for the clearest image for installation into either an industrial environment.
With open frame mounting holes around the edges, you can install the OF1016-NP/C into machinery, behind cabinet doors, and even into cavity wall spacing,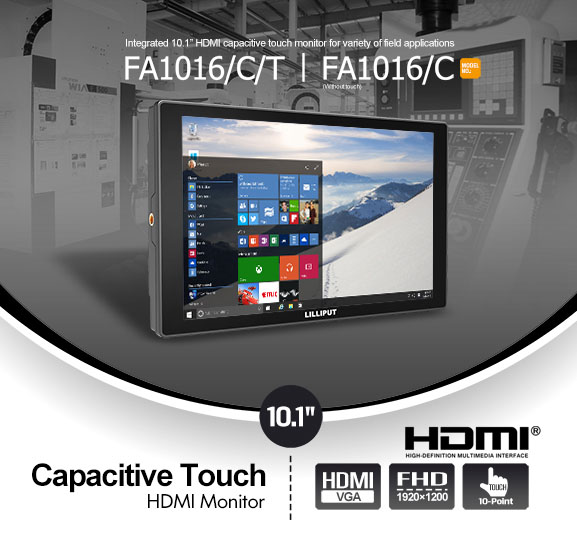 With full lamination technology you can see every detail in massive Full HD visual quality. The Lilliput OF1016-NP/C also features unique Glass+Glass (G+G, G&G) technology, creating a smooth appearance for its outer body. It facilitates the clearest view possible and allows for a bright, tidy visual experience in an industrial or low light environment.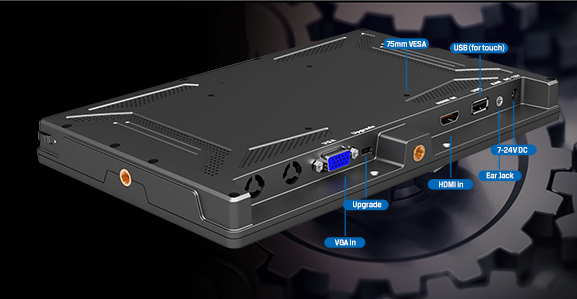 HDMI+VGA Interfaces - The OF1016-NP/C is compatible with both HDMI and VGA signals, designed to be used with legacy VGA as well as current HDMI video input feeds. Perfect for Home Security systems, industrial machinery monitoring, and camera confidence monitoring. Wide Voltage Power - Features high level components to support 7 to 24V power supply voltage, allowing the monitor to be installed in more varied and different installation locations (PSV vehicles, trucks etc)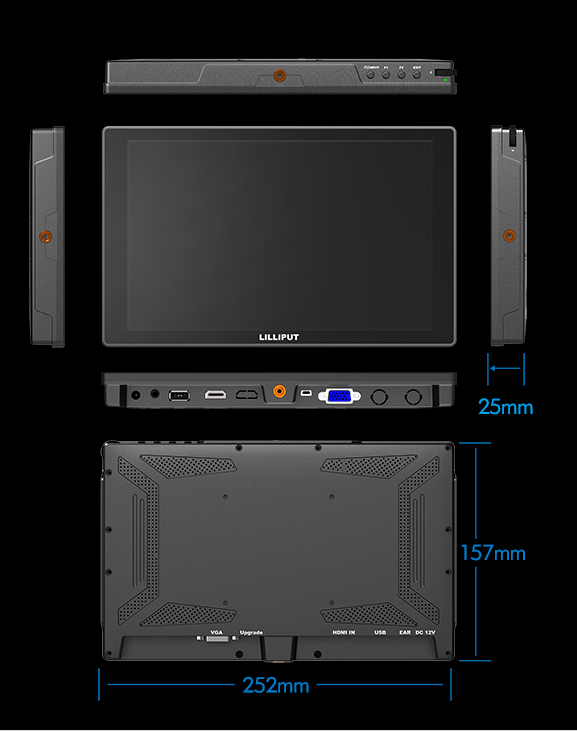 Monitor Specification
Screen Size (diagonal)
10.1 inch
Aspect Ratio
16:10
Native Resolution
1920 x 1200 (native) - 10.1" 8 Bit IPS
Maximum Resolution
1920×1080 (maximum)
Viewing Angle (degrees)
170º x, 170º y
Brightness Ratio (cd/m2)
320
Contrast Ratio
1000:1
Backlight
LED
Video Inputs
HDMI, VGA
Audio Outputs
Internal Speaker, Earphone Jack
Input Power
DV 7-24V (12V 1.5A DC Plug provided)
Operating Temperature
0°c to +50° degrees
Mounting Options
Open Frame Mounting Brackets on Left and Right Sides
Contents Of Box
Product
1 x FA1016-NP/C monitor
Connection Cables
1x HDMI A-A cable, 1x VGA cable
Power Adaptor
1x DC 12V plug (available in UK, US and EU style),
Mounts and stands
Gimbal Bracket (Optional) // VESA 75 Stand (Optional)
Dimensions
Height (mm)
157
Width (mm)
252
Depth (mm)
25
Weight (g)
560
Environment
Storage Temperature
-20°c to 60°c
Lilliput OF1016-NP/C - Open Frame 10.1" IPS HDMI monitor
Brand: Lilliput
Product Code:

OF1016-NP/C

Availability:

In Stock
Related Products






Customisation Options Are Available


You can customise many options with all units of Lilliput product - from custom logos to input types to customised bezel and mounting options. To discuss your requirements please contact us via email Here or give us a call on +44 (0)8450068868