The Lilliput T5 is a 5 inch 16:9 LCD capacitive touchscreen monitor - the first 5" touch camera monitor from Lilliput that can be used to control the monitors functions directly from its own touch screen. It is also the first 5" or less camera monitor on the market to sport an HDMI 2.0 input port for a 4K 60Hz input, and have an 8V DC output.


Click on this link to download a firmware revision for all units purchased prior to 31/12/2020. This firmware adds in the Waveform function, as well as an additional 8x LUT files designed to offer alternatives to the standard image setup.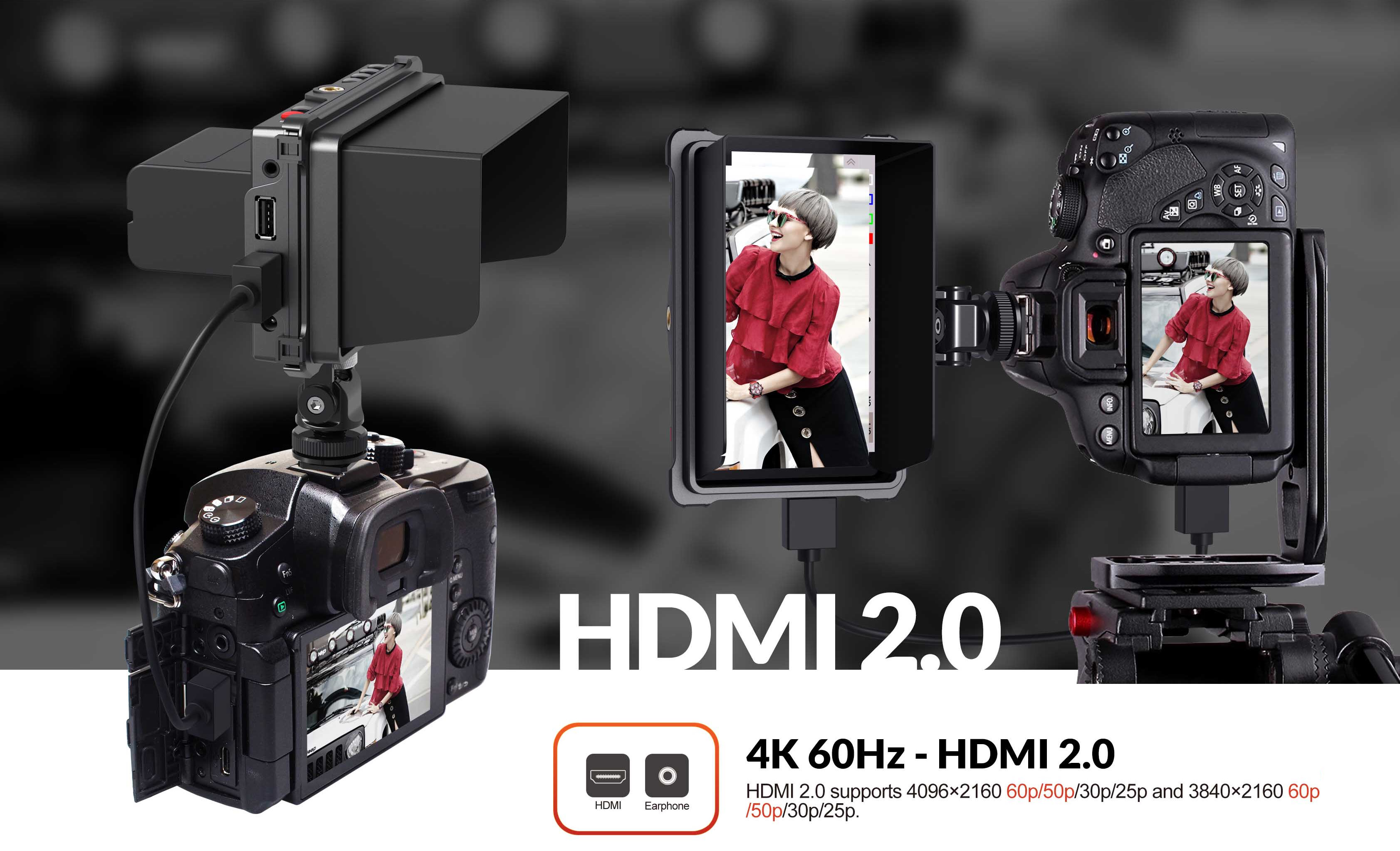 The inclusion of HDMI 2.0 allows for you to input a much wider range of video frequencies, particularly 4K @ 60HZ - a first for a Lilliput Monitor model. We list the supported resolutions at the above, the big difference being that these models support 50p and 60p at both 3840 x 2160 and 4096 x 2160 resolutions.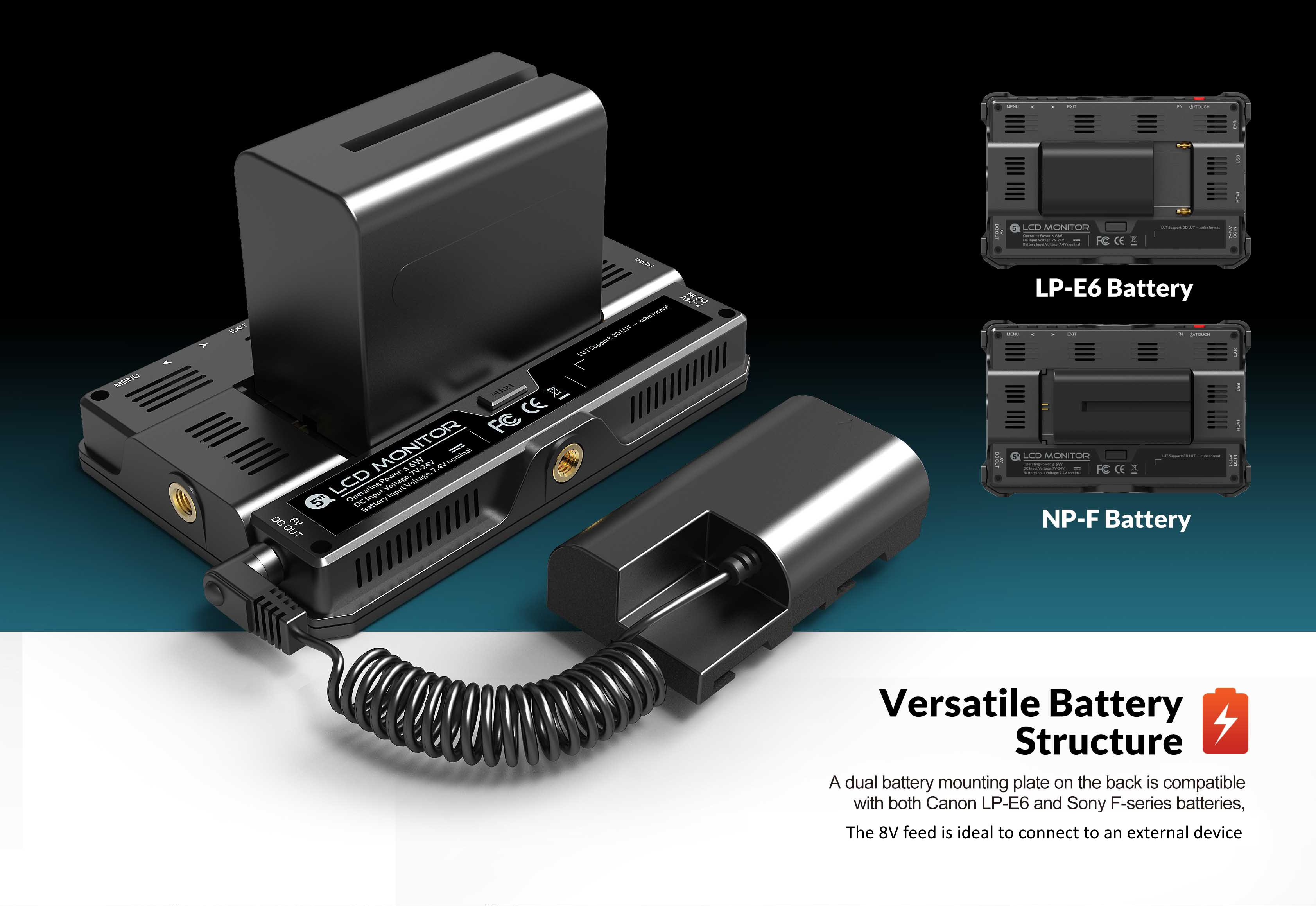 The Lilliput T5 features an external 8V power feed - ideal for you to attach to a powered gimbal system for longer battery life, or to charge the batteries of an externally connectable device such as your camera, or other capture system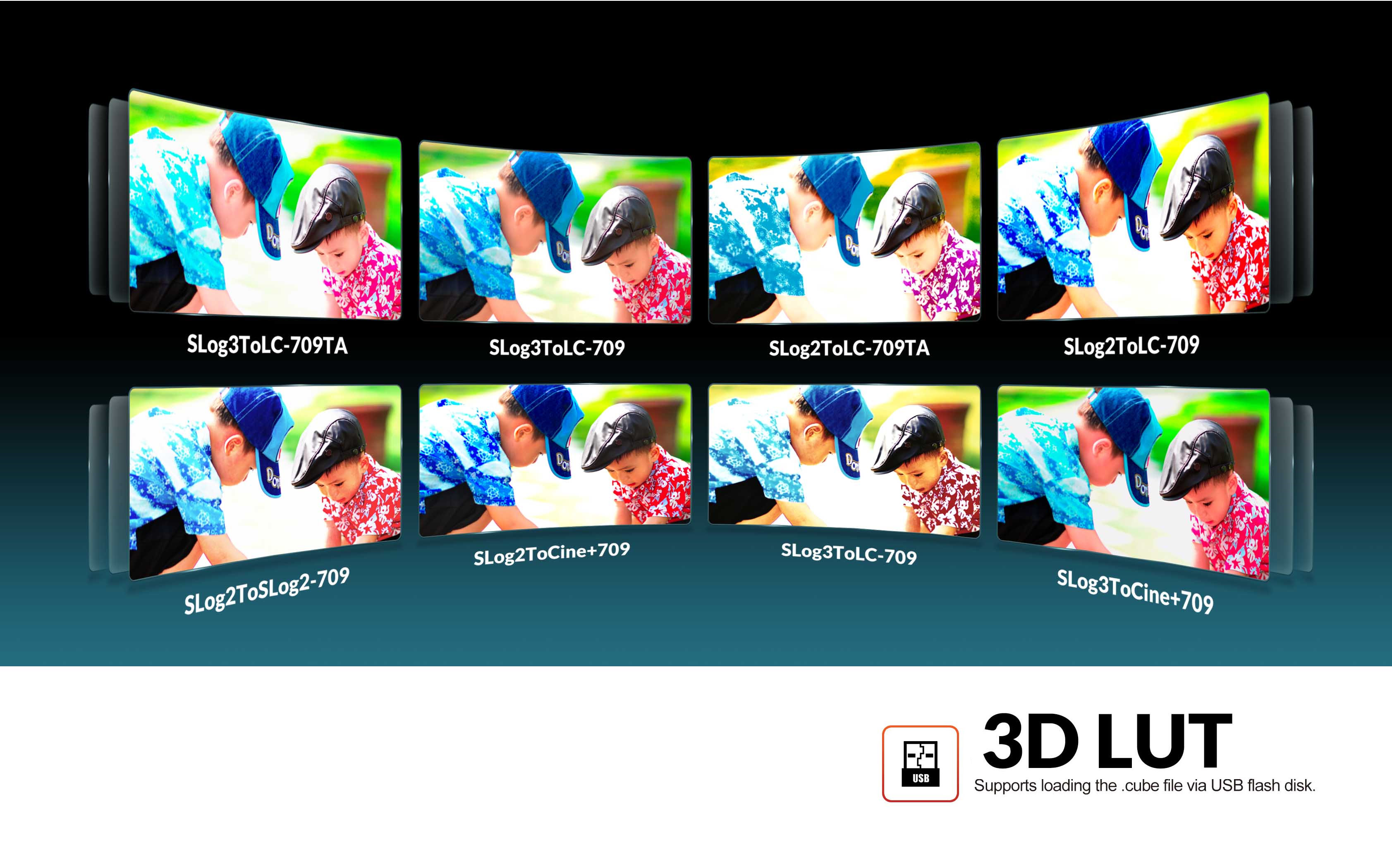 3D LUT is a system built into the Lilliput T5. It is a Look Up Table function which works as a reference for looking up the specific colour characteristics of your image. These are stored in a .cube file and can be shared between devices. They are useful as they allow for the same levels of colour calibration between a string of devices in a workflow, making the end result look a lot more like what was originally seen through the lens.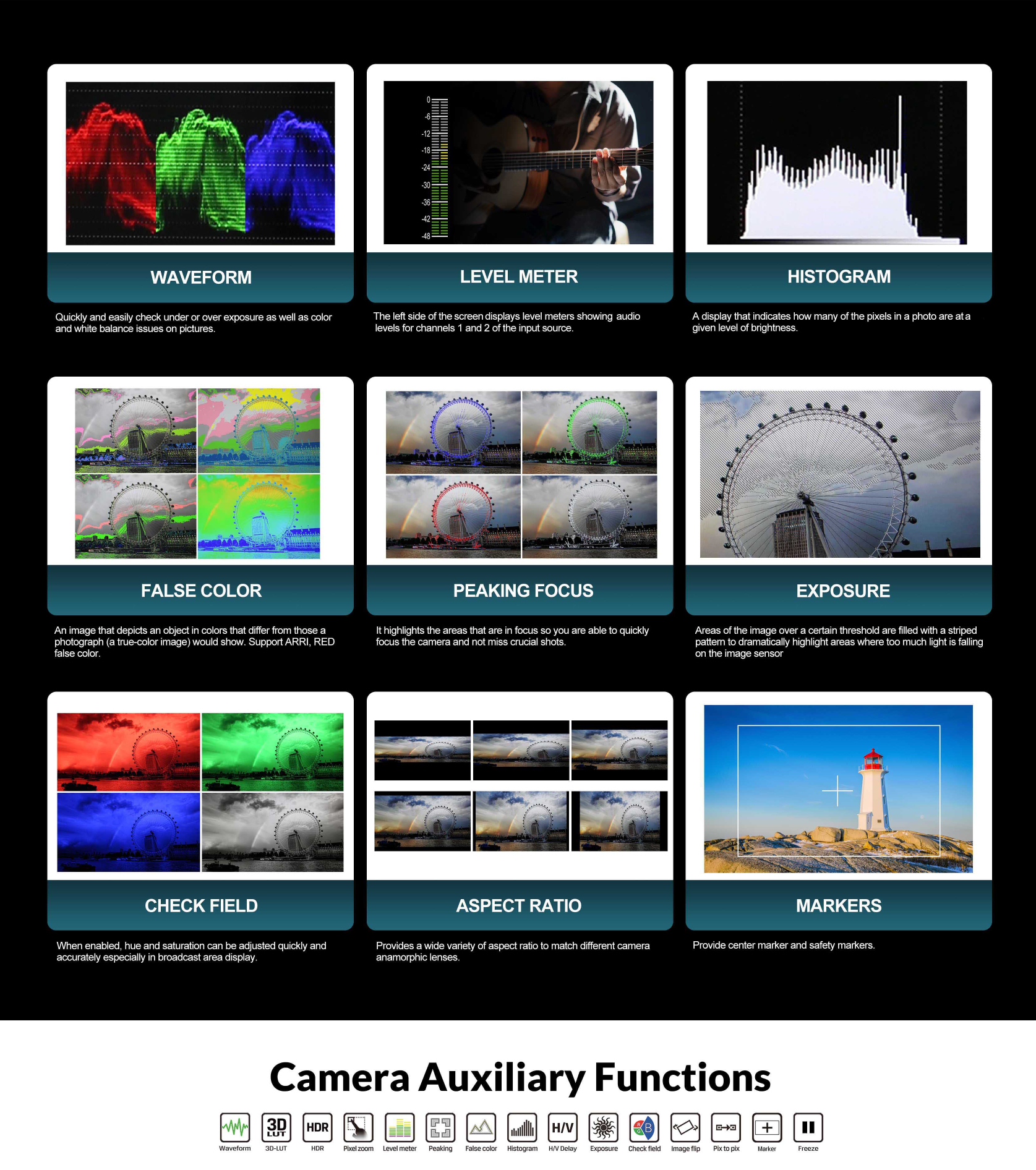 The Lilliput T5 has a full set of functions designed to help you with the composition of your shots for both still and video frames. Waveforms allow you to check color and balance levels of your input feeds, as well as the audio level monitoring which helps you record sound without clipping (amongst a host of other features).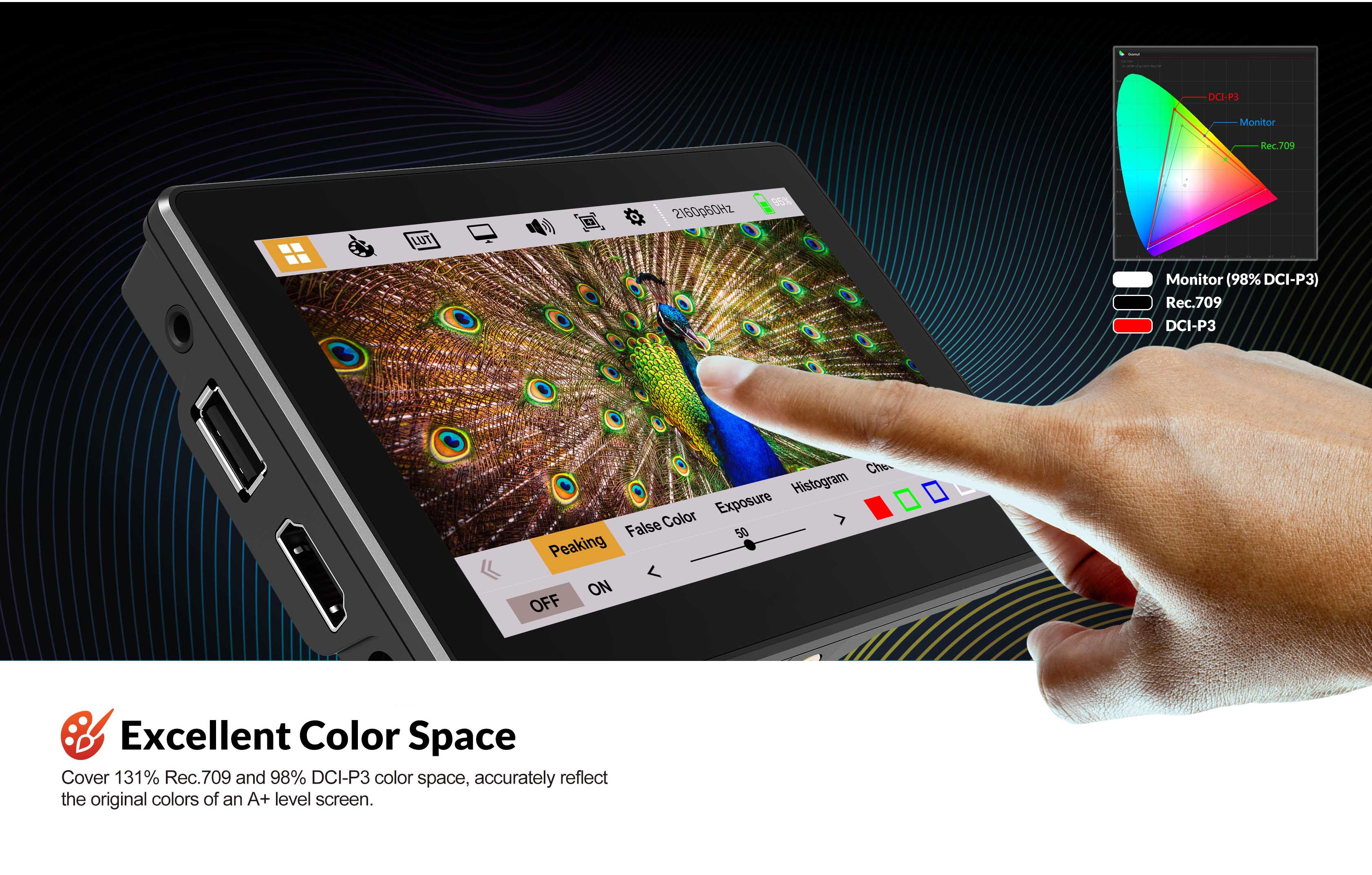 The Apple-created DCI-P3 colour and the industry standard REC.709 colour space are fully and faithfully represented using the Lilliput T5, with almost total coverage of the DCI-P3 space, and more than full coverage of the REC.709 space being achieved. This allows for a more versatile set of input feed characteristics to be used and represented with total clarity.
Display
Aspect Ratio
16:9
Brightness
400cdm²
Resolution
1920 x 1080
Touch Panel
Capacitive
Viewing Angle
170° / 170°
HDR
ST2084 300 / 1000 / 10000 / HLG
LUT Support
3D LUT (.cube format)
Screen Size
5" IPS
Supported Log Formats
Sony Slog / Slog2 / Slog3 / User...
HDMI Video Input
Formats
2160p 24 / 25 / 30 / 50 / 60 :: 1080p 24 / 25 / 30 / 50 / 60 :: 1080i 50 / 60 :: 720p 50 / 60
Input
HDMI Video Inputs
1x HDMI 2.0
Size
Dimensions
132 x 86 x 18.5mm
Power
Power Connector
DC 7-24V
Power Consumption
<=6W / <=17W (DC 8V Power output in operation)
Environment
Operating Temperature
0°C to 50°c
Storage Temperature
-10°c to 60°c
Display
Aspect Ratio
16:9
Brightness
400cdm²
Resolution
1920 x 1080
Touch Panel
Capacitive
Viewing Angle
170° / 170°
HDR
ST2084 300 / 1000 / 10000 / HLG
LUT Support
3D LUT (.cube format)
Screen Size
5" IPS
Supported Log Formats
Sony Slog / Slog2 / Slog3 / User...
HDMI Video Input
Formats
2160p 24 / 25 / 30 / 50 / 60 :: 1080p 24 / 25 / 30 / 50 / 60 :: 1080i 50 / 60 :: 720p 50 / 60
Input
HDMI Video Inputs
1x HDMI 2.0
Size
Dimensions
132 x 86 x 18.5mm
Power
Power Connector
DC 7-24V
Power Consumption
<=6W / <=17W (DC 8V Power output in operation)
Environment
Operating Temperature
0°C to 50°c
Storage Temperature
-10°c to 60°c
Lilliput T5 - 5" 4K HDMI 2.0 Capacitive Touchscreen monitor
Brand: Lilliput
Product Code:

Lilliput T5

EAN:

6950821601808

Availability:

In Stock
Related Products






Customisation Options Are Available


You can customise many options with all units of Lilliput product - from custom logos to input types to customised bezel and mounting options. To discuss your requirements please contact us via email Here or give us a call on +44 (0)8450068868