The Lilliput BM280-12G is a 28" 4K resolution monitor with HDMI and SDI connectivity at 12G connectivity speeds. Designed for the professional video and film industry and is ideally suited for directors and camera operators operating 4K capable equipment.
---
The BM280-12G has two SDI input standards - ST425-3, which uses the 4x SDI inputs to carry 1/4 of the overall screen image, and ST425-5 which allows you to knit together the 4 SDI inputs and interleave them over each other. Both of these allow for a full 4K image over the 4x 3G SDI connections.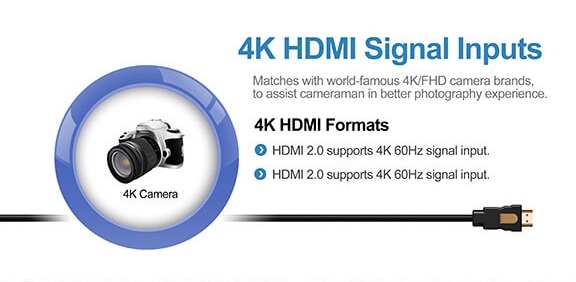 4K Ultra-HD resolution

The BM280-12G monitor features the latest 4K imaging technology. Connected through by HDMI 2.0, 4K screens are Ultra HD - containing 8.3 million pixels making the resolution four times more powerful than full HD making them the ultimate in cinematic displays.




12G SDI Input

The BM280-12G monitor has a 12G-SDI Single link input and output loop onboard. It can support 12G bandwidth inputs, as well as being backward compatible with 3G bandwidth inputs.




Solid Transmission Distances

The BM230-12G has a robust signal transmission range, meaning that you can use up to a 70 meter 12G-SDI input cable, and an output cable at up to 50 meters length, offering a flexible path to SDI connectivity. We measure this by looking at the height of the "eye" in the signal wave as shown on an oscilloscope. The BM280-12G has a "tall" eye when analysed, which highlights the strength and jitter-free quality of the signal.

Image flip mode - View it your way

Integrate the monitor into your current workflow at whatever angle you choose. X flip - Y flip functionality gives you that flexibilty

6U Rackmount frame

Ideal for live feed vans and event management - the monitor is able to be mounted into a 6U rackmount frame to fit within your current equipment cabinet

4 way split screen display

The BM280-12G monitor supports 4 independent input signals simultaneously making it easier than ever to view your set from 4 separate angles.

Precision colours with 1000:1 contrast ratio

The BM280-12G has a 1000:1 contrast ratio and 330cd/m brightness ratio, giving you sharper pictures and rich colours. Enjoy more detailed images than ever before.

Carry-on suitcase for superior protection

The monitor comes with a specially designed flight case for greater robustness and portability. The design also allows for greater heat radiation and ensures greater reliability over longer shoots

Connectivity for all video standards

The monitor comes with all of the major video standards used in commercial and the video industry. The BM280-12G connects using HDMI for 4K resolutions, and can connect using either HDMI or SDI for standard 1080p and below resolutions. This gives the ability to meet the needs of any professional display solution

Metal outer housing

An aluminium outer body provides excellent protection to extend the lifetime of your monitor, finished in black to match into most installation colour schemes.

Programmable Function keys

4 Programmable function keys on the front of the monitor allow you to shortcut to your most used functions, such as peaking, histograms, check field, image flip etc.

Wireless HDMI receiver (OPTIONAL)

With wireless HDMI (wHDI) technology you can transmit 1080p 60Hz signals direct to the monitor without the need for cables, making for a much more portable solution when on set. One transmitter can connect to multiple receiver units giving you a video village without the need for cables.
Monitor Specification
Screen Size (diagonal)
28"
Aspect Ratio
16:9
Native Resolution
3840 x 2160
Viewing Angle (degrees)
178 / 178
Brightness Ratio (cd/m2)
330
Contrast Ratio
1000:1
Backlight
LED
Video Inputs
12G-SDI x 2 (backward compatible to 6G and 3G-SDI), 3G SDI x 2, HDMI x 4 (1 x HDMI 2.0 - 4K at 60Hz, 3 x HDMI 1.4 - 4K at 30Hz), DVI x 1, VGA x 1, Tally x 1
Video Outputs
12G SDI x2, 3G-SDI x 2
Audio Outputs
Speaker x 2, 3.5mm Jack x 1
Input Power
DC12V - 24V (XLR)
Operating Temperature
-20 degrees - 50 degrees
Dimensions
Height (mm)
376.5 (417 in case)
Width (mm)
579 (666 in case)
Depth (mm)
45 (173 in case)
Weight (g)
17kg with case (8.6kg without case)
Monitor Specification
Screen Size (diagonal)
28"
Aspect Ratio
16:9
Native Resolution
3840 x 2160
Viewing Angle (degrees)
178 / 178
Brightness Ratio (cd/m2)
330
Contrast Ratio
1000:1
Backlight
LED
Video Inputs
12G-SDI x 2 (backward compatible to 6G and 3G-SDI), 3G SDI x 2, HDMI x 4 (1 x HDMI 2.0 - 4K at 60Hz, 3 x HDMI 1.4 - 4K at 30Hz), DVI x 1, VGA x 1, Tally x 1
Video Outputs
12G SDI x2, 3G-SDI x 2
Audio Outputs
Speaker x 2, 3.5mm Jack x 1
Input Power
DC12V - 24V (XLR)
Operating Temperature
-20 degrees - 50 degrees
Dimensions
Height (mm)
376.5 (417 in case)
Width (mm)
579 (666 in case)
Depth (mm)
45 (173 in case)
Weight (g)
17kg with case (8.6kg without case)
Lilliput BM280-12G - 28" 4K HDMI 2.0 / 12G-SDI monitor
Brand: Lilliput
Product Code:

BM280-12G

EAN:

6950821601495

Availability:

In Stock
2,038.80€

Ex Tax: 1,699.00€






Customisation Options Are Available


You can customise many options with all units of Lilliput product - from custom logos to input types to customised bezel and mounting options. To discuss your requirements please contact us via email Here or give us a call on +44 (0)8450068868