PC-702 is a smart and rugged 7" industrial touch PC which integrates rich functionality such as 4G LTE, Bluetooth, HDMI Output, USB and LAN Ports.
For industrial integration it comes equipped with 2x RS232 Ports and CAN / GPIO Ports as well as Power Over Ethernet (PoE) capabilities and can be supplied with an (unlicensed) version of Windows 10 2016 Enterprise Edition.
The PC-702 is at home in any installation environment - rugged environments such as emergency command, transportation scheduling, and industrial control - as well as lighter usage environments like a mobile office, multimedia advertising panels, and personal entertainment solutions.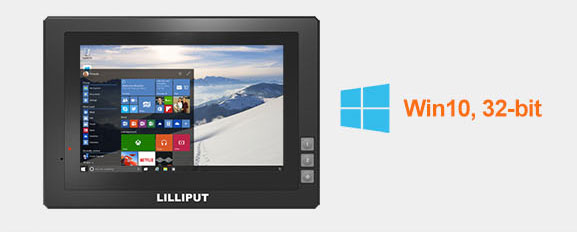 ;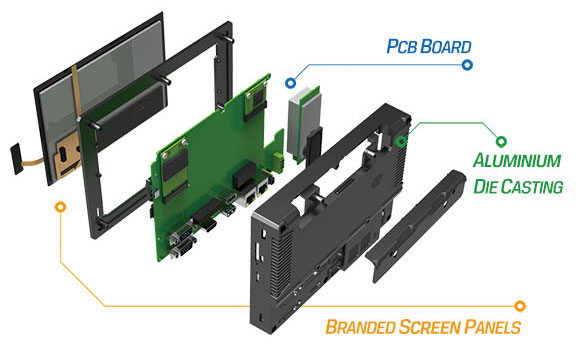 Display
Aspect Ratio
16:10
Brightness
400cd/㎡
Display Screen
7" IPS
Resolution
1280 x 800
Touch Panel
Capacitive
Panel PC Specifications
Connections
USB Host 2.0 × 1, USB Device 3.0×1 RS232×4 / RS232×3+RS485×1 / RS232×2+RS422×1+RS485×1 GPIO input×4, GPIO output×6
Operating System
Windows 10 32-Bit X32 - ***UNLICENSED - 30 Day Trial Version***
Processor
Intel AtomZ8350 1.44 GHZ
RAM Memory
2GB LPDDR3
Internal Storage
32GB eMMC
Graphics
Intel HD Graphic 400
Networking
Ethernet 100M (RJ45), Optional Power Over Ethernet (PoE)
Common Parameters
Dimension
206 × 144 × 30.9 mm
Power
Consumption ≤10W, DC 9-36V, Optional Power Over Ethernet (PoE)
Display
Aspect Ratio
16:10
Brightness
400cd/㎡
Display Screen
7" IPS
Resolution
1280 x 800
Touch Panel
Capacitive
Panel PC Specifications
Connections
USB Host 2.0 × 1, USB Device 3.0×1 RS232×4 / RS232×3+RS485×1 / RS232×2+RS422×1+RS485×1 GPIO input×4, GPIO output×6
Operating System
Windows 10 32-Bit X32 - ***UNLICENSED - 30 Day Trial Version***
Processor
Intel AtomZ8350 1.44 GHZ
RAM Memory
2GB LPDDR3
Internal Storage
32GB eMMC
Graphics
Intel HD Graphic 400
Networking
Ethernet 100M (RJ45), Optional Power Over Ethernet (PoE)
Common Parameters
Dimension
206 × 144 × 30.9 mm
Power
Consumption ≤10W, DC 9-36V, Optional Power Over Ethernet (PoE)
Lilliput PC-702 - 7" Windows 10 32-Bit x86 Panel PC
Brand: Lilliput
Product Code:

PC-702

EAN:

6950821601037

Availability:

In Stock
Tags: Lilliput PC-702 - 7" Windows 10 32-Bit x86 Panel PC






Customisation Options Are Available


You can customise many options with all units of Lilliput product - from custom logos to input types to customised bezel and mounting options. To discuss your requirements please contact us via email Here or give us a call on +44 (0)8450068868