The TK1010-NP/C/T is a 10.1" 5 point resistive touch open frame monitor. This means that the monitor can be mounted "front-on" so it sits behind a wall display or window design and can be discreetly dressed in and mounted into an existing design. The single point touch screen can be used to integrate the monitor into an interactive environment such as a kiosk or museum display.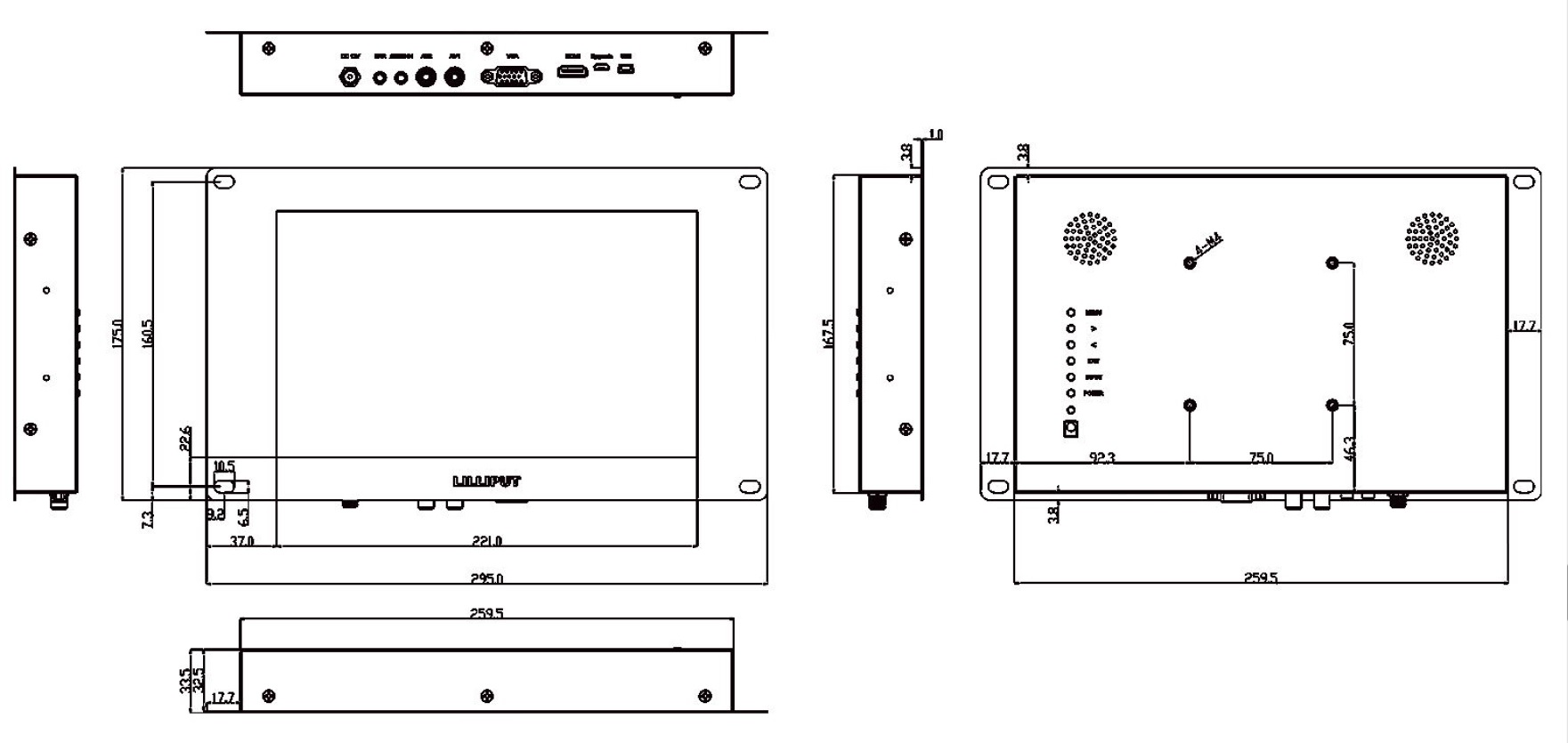 The 10.1" Display features 16:9 Aspect Ratio, 1024 x 600 resolution, 130° / 110° viewing angles, 400:1 contrast, and 250cdm brightness.



Supplied as an open frame unit, the TK1010-NP/C/T can be mounted by the side open frame mounts, as well the VESA 75 mount holes at the back of the monitor. You can also mount the monitor on a desktop or inside from a rooftop / ceiling rooftop with the specific VESA 75 mount (sold separately).




Featuring the same technology as modern smart phones, the TK1330-NP/C/T comes fitted with a capacitive touch screen system which allows for gesture based control and multitouch capability.

<NOTE : NOT COMPATIBLE WITH MAC OSX OR ANDROID>.




A wide range of video inputs are available for feeding to the TK1010-NP/C/T monitor - HDMI, DVI, VGA, and Audio - ensuring a wide compatibility with most video systems.



The TK1010-NP/C/T has a metal housing frame - designed to keep the system in good order, protect it from damage, and allow for firm fixing to a wall or display board. It is also available with a metal front bezel which will allow you to make a smoother finish of the front of the monitor.

Monitor Specification
Screen Size (diagonal)
10.1"
Aspect Ratio
16:9
Native Resolution
1024 x 600
Maximum Resolution
1920 × 1080
Viewing Angle (degrees)
140° / 110°
Brightness Ratio (cd/m2)
250 cdm/2
Contrast Ratio
500 : 1
Backlight
LED
Video Inputs
HDMI / DVI / VGA / Composite
Audio Outputs
2 Internal Speakers
Touchscreen Technology
5 Wire Resistive
Dimensions
Height (mm)
175
Width (mm)
295
Depth (mm)
33.5
Weight (g)
1400
Power
Audio Output
<=12W
Battery
External (Optional)
Current
435 mA
Input Voltage
DC 12V
Power Consumption
<=5.5W
Environment
Operating Temperature
-20°c - 60°c
Storage Temperature
-30°c - 70°c
Lilliput TK1010-NP/C/T - 10.1" HDMI Open Frame Monitor (resisitive touch)
Brand: Lilliput
Product Code:

TK1010-NP/C/T - 10.1" HDMI Open Frame Touch Monitor

Availability:

In Stock






Customisation Options Are Available


You can customise many options with all units of Lilliput product - from custom logos to input types to customised bezel and mounting options. To discuss your requirements please contact us via email Here or give us a call on +44 (0)8450068868