The Lilliput TK1330-NP/C is one of the most popular models we provide as it is versatile and strong, whilst also being simple to install and as tough as nails.
This Open Frame model features a set of wall mount brackets which can be attached to the left and right hand sides of the monitor, allowing for flush or rear mounting to any suitably prepared flat surface.

It's a metal-cased rugged 13.3" monitor with HDMI, DVI, VGA, and Composite Video inputs - we've seen it used in environments from Power Stations to Theme Parks, Meat Packagers to Worldwide Music Tours.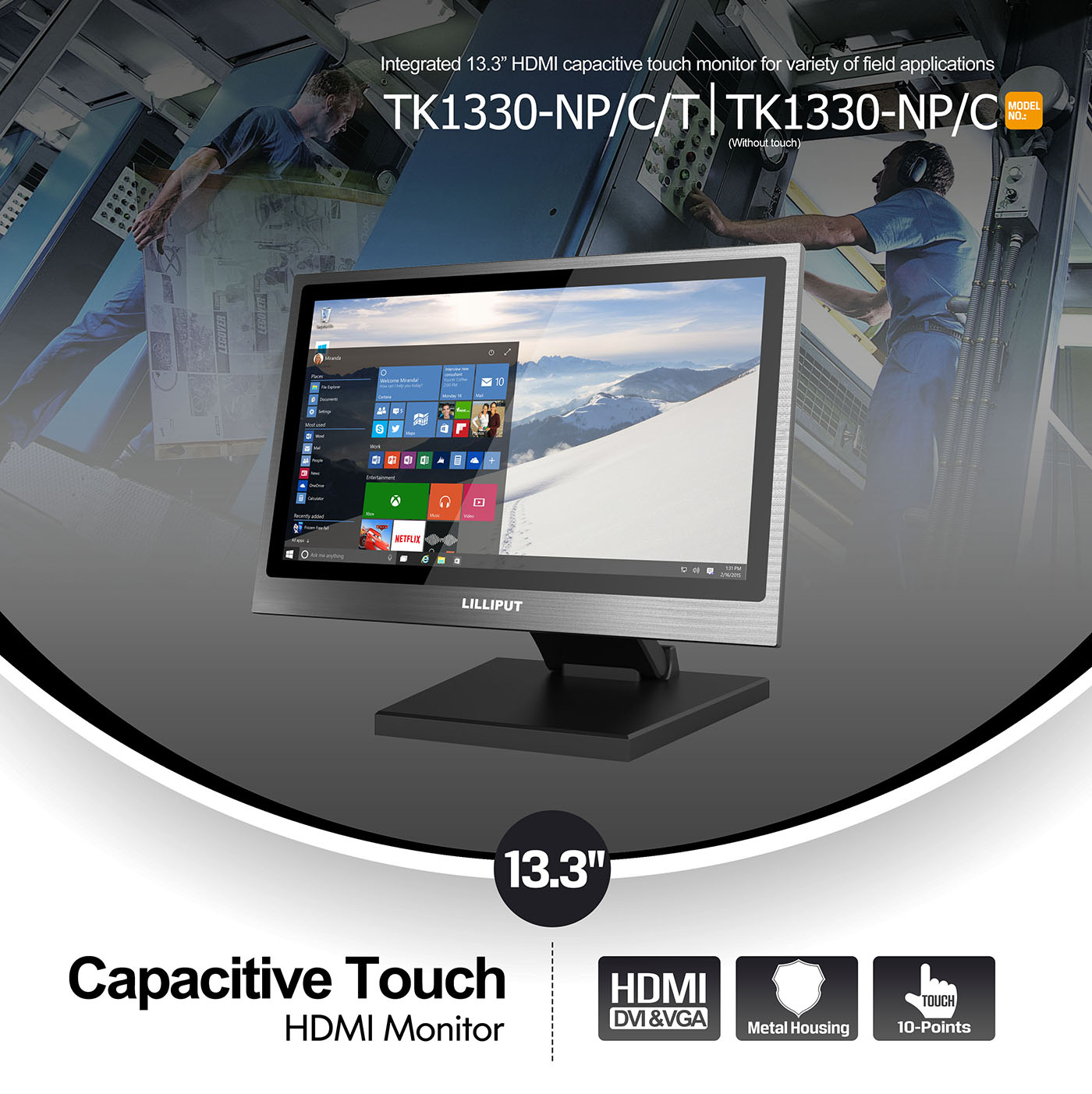 Excellent High Definition 1080px Display

The TK1330-NP/C sports an attractive 13.3 inch IPS panel, which features with 1920×1080 Full HD resolution,
170°wide viewing angles with high contrast and brightness, and provides a satisfying viewing experience.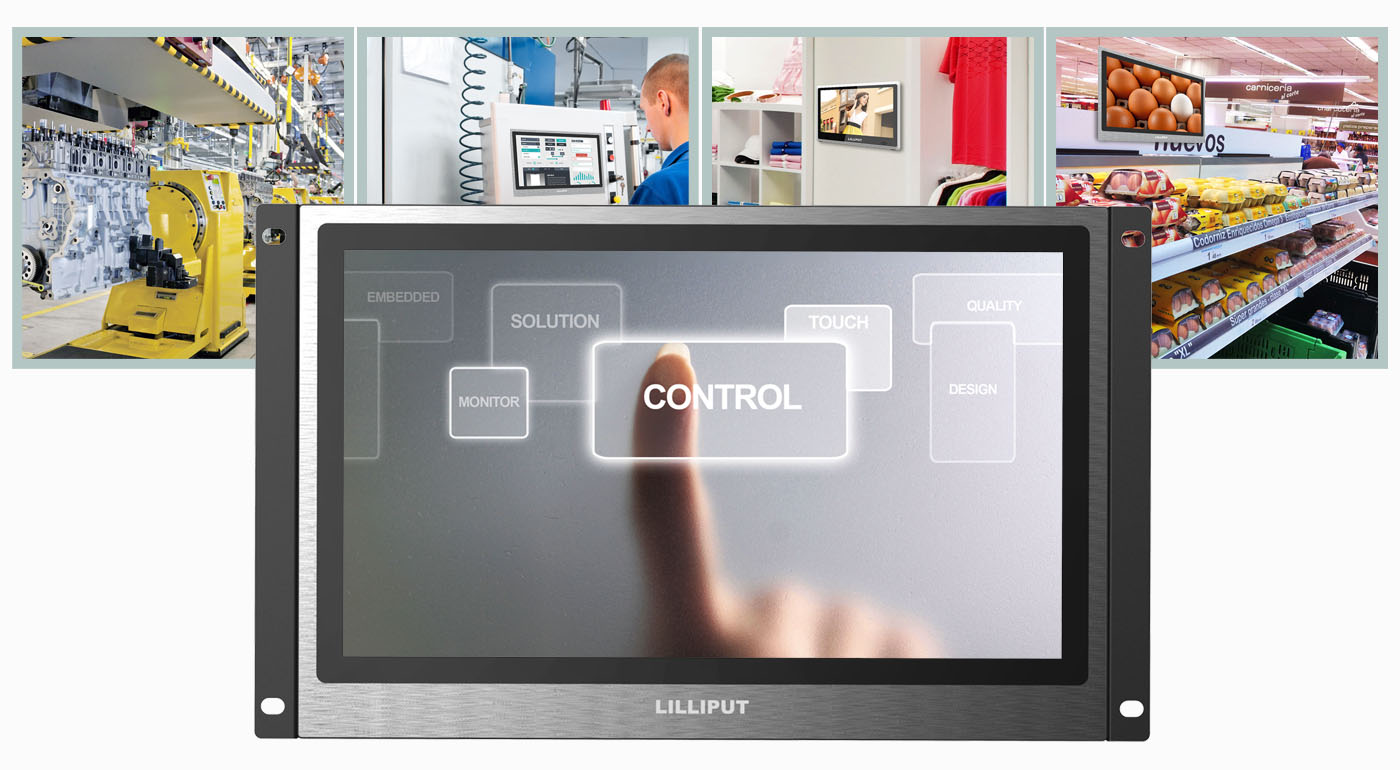 Metal Housing
With an etched aluminum front shell and a solid iron back shell, the housing on the TK1330 gives it great protection
from damage, provides a good-looking appearance, whilst also extending the lifetime of the monitor.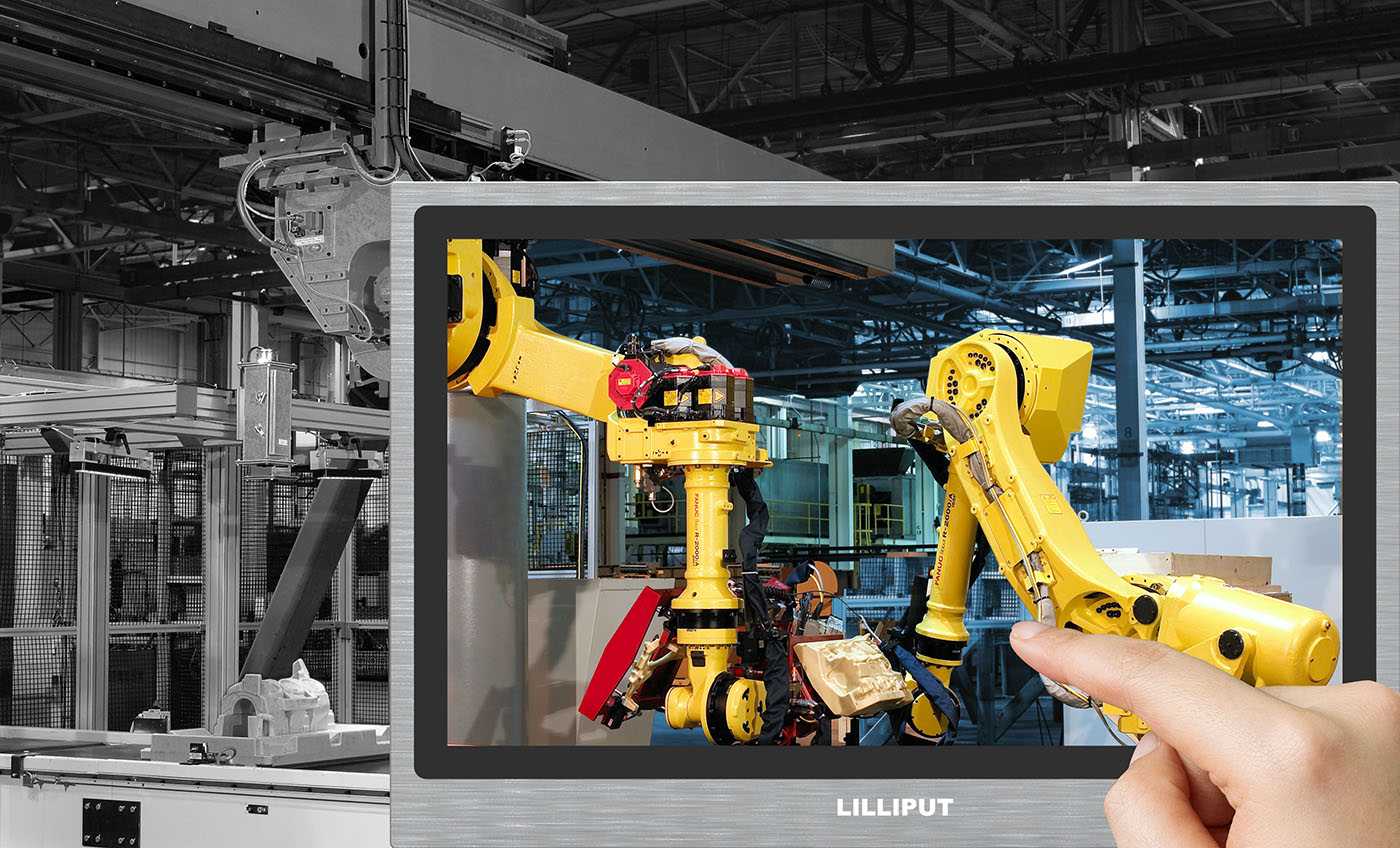 Application Industries
The rugged metal housing design allows for use in a large and varied number of installation environments. For instance - as a
Human-Machine Interface in production environments, confidence monitor in a performance space, retail & mall advertising player,
CCTV monitoring, and a host of others...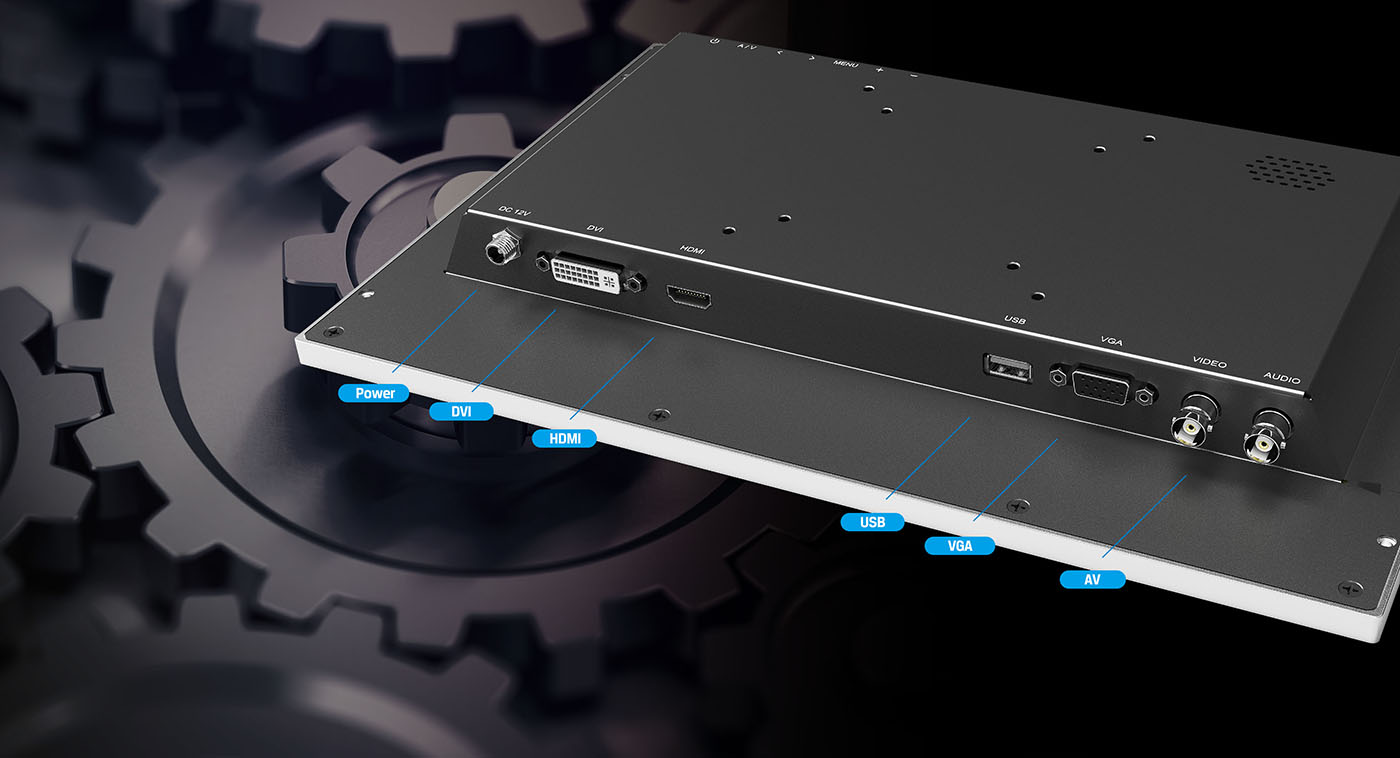 Interfaces & Wide Voltage Power
The TK1330 has inputs for with HDMI, DVI, VGA & AV input signals to meet the differing needs of your display output. It also features built-in high level power components which will support 12 up to 24V power supply voltage - allowing installation in a wider variety of usage cases.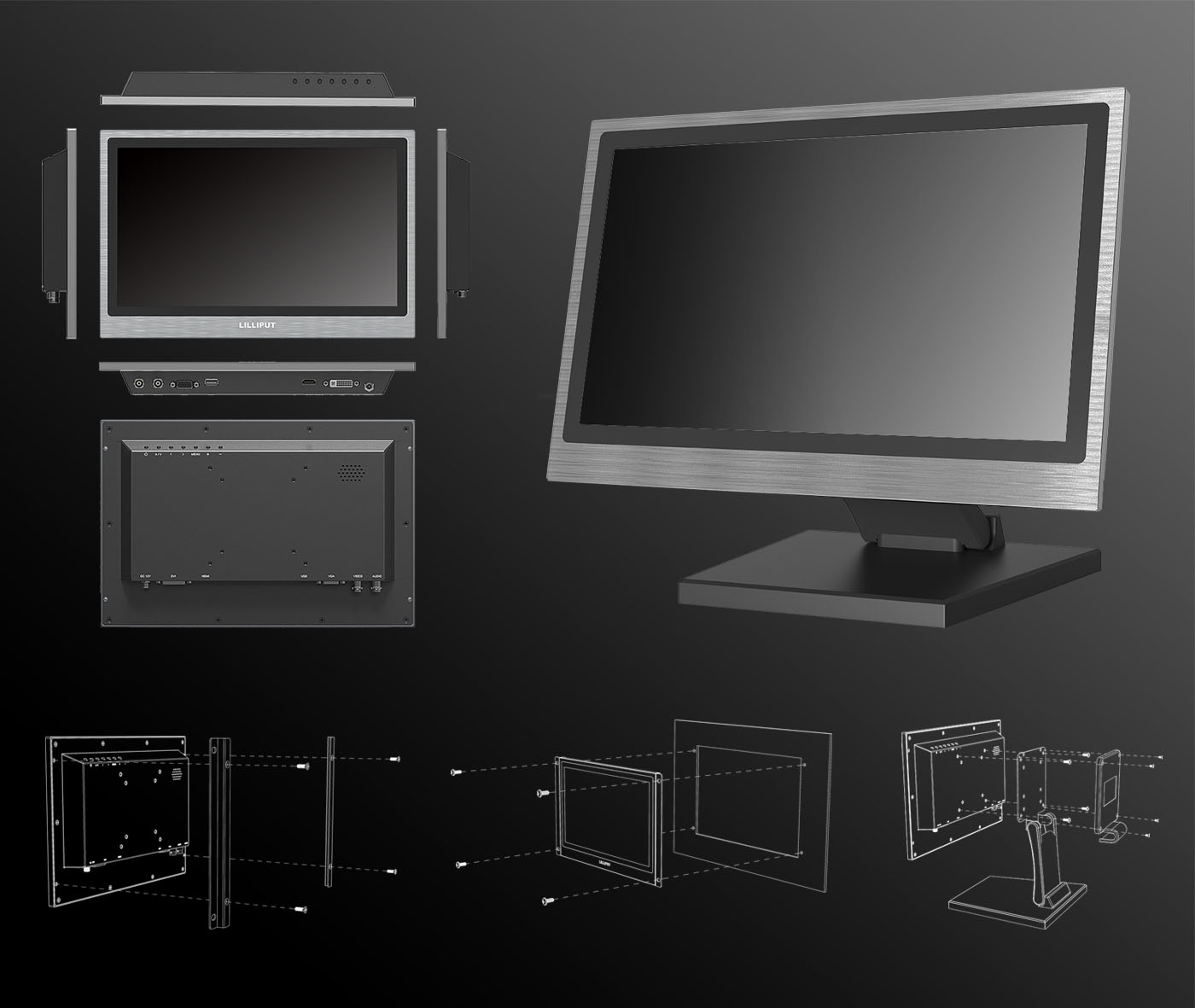 Versatile Mounting Methods
The TK1330 supports rear/wall mounts with included integrated brackets which will allow you to mount the monitor in the back of a wall or cavity space for flush and seamless mounting. Also, with both VESA 75mm and 100mm mounting holes, the monitor can be mounted to wall brackets and desktop stands for easy adjustments.
Monitor Specification
Screen Size (diagonal)
13.3 inch
Aspect Ratio
16:9
Native Resolution
1920×1080 (native)
Viewing Angle (degrees)
170º x, 170º y
Brightness Ratio (cd/m2)
300
Contrast Ratio
800:1
Backlight
LED
Video Inputs
HDMI, DVI, VGA, composite
Audio Outputs
Internal Speaker
Input Power
DC 12V (Wide Voltage optional - see related items for details)
Operating Temperature
-20 ~ 60 degrees
Mounting Options
VESA 75, VESA 100
Contents Of Box
Product
1 x TK1330-NP/C monitor
Connection Cables
1x HDMI cable, 1x VGA cable, 1 x A/V input cable
Power Adaptor
1x DC 12V plug (available in UK, US and EU style),
Mounts and stands
Optional stands available
Additional accessories
Dimensions
Height (mm)
219
Width (mm)
333.5
Depth (mm)
34.5
Weight (g)
1900
Monitor Specification
Screen Size (diagonal)
13.3 inch
Aspect Ratio
16:9
Native Resolution
1920×1080 (native)
Viewing Angle (degrees)
170º x, 170º y
Brightness Ratio (cd/m2)
300
Contrast Ratio
800:1
Backlight
LED
Video Inputs
HDMI, DVI, VGA, composite
Audio Outputs
Internal Speaker
Input Power
DC 12V (Wide Voltage optional - see related items for details)
Operating Temperature
-20 ~ 60 degrees
Mounting Options
VESA 75, VESA 100
Contents Of Box
Product
1 x TK1330-NP/C monitor
Connection Cables
1x HDMI cable, 1x VGA cable, 1 x A/V input cable
Power Adaptor
1x DC 12V plug (available in UK, US and EU style),
Mounts and stands
Optional stands available
Additional accessories
Dimensions
Height (mm)
219
Width (mm)
333.5
Depth (mm)
34.5
Weight (g)
1900
Lilliput TK1330-NP/C **Open Frame Mount Version** - 13.3" 1920x1080 HDMI non touch monitor
Brand: Lilliput
Product Code:

Lilliput TK1330-NP/C **Open Frame Mount Version**

Availability:

In Stock
Related Products






Customisation Options Are Available


You can customise many options with all units of Lilliput product - from custom logos to input types to customised bezel and mounting options. To discuss your requirements please contact us via email Here or give us a call on +44 (0)8450068868