Lilliput's TMT-8 is our newest high grade Face Recognition & Temperature Measurement Terminal system. It is a portable temperature-screening and access control solution, ideal for use in lobbies and building entrances.
TMT-8 is a high-performance embedded binocular temperature-measuring face recognition terminal. The terminal integrates offline face recognition, temperature detection, and mask recognition, It also features identity verification, on-site face image collection, and blacklisted entrant early warning detection. With an IP65 rating the unit is dust-proof and wash-down capable.
Installation and usage scenarios are varied and could include community temperature monitoring, identification and access control in domestic communities, campuses, hospitals, hotels, shopping malls, corporate office buildings, public service places, and construction sites.


The Lilliput TMT-8 Terminal is optimised for efficient temperature screening: it will automatically measure skin-surface temperature upon detection of a human face. Furthermore, it does not require identity authentication to begin temperature-screening, again improving measurement efficiency. It is able to measure temperatures between 25°C and 45°C to an accuracy of ±0.5°C. When an abnormal skin-surface temperature is detected, the Lilliput TMT-8 will issue an alert. Additionally, out-of-range temperatures are uploaded to the security centre; this allows security/ temperature-screening personnel to remain at a safe distance from those being screened.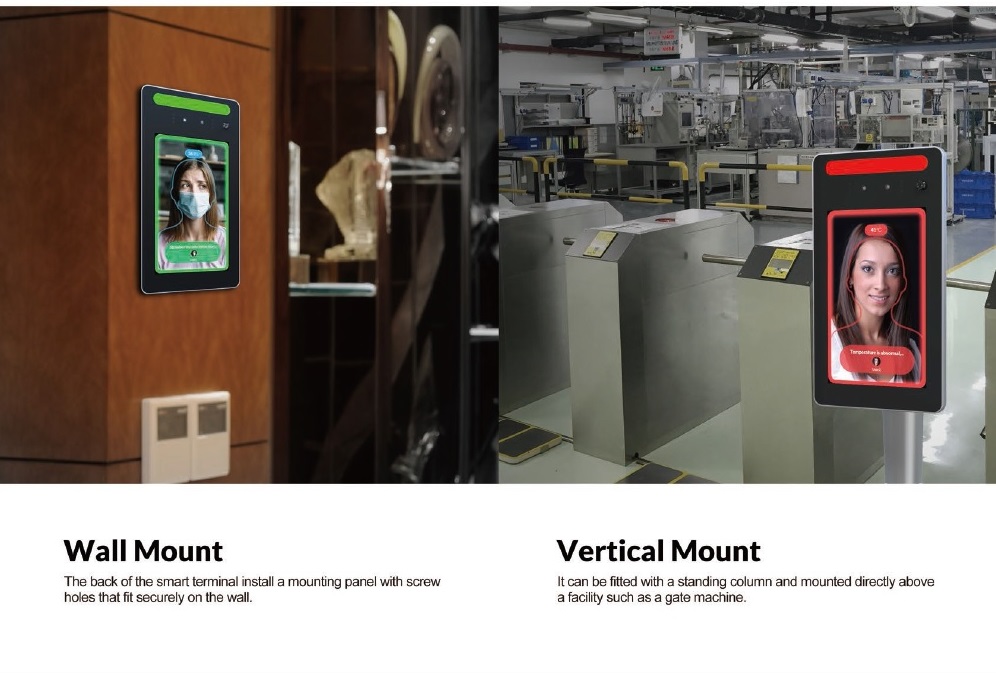 When used for face recognition, it is recommended that the Lilliput TMT-8 terminal is placed at a height of 1.4m to 1.9m. Individuals being screened should stand between 0.5 and 1.5m away. The terminal can determine facial recognition within 1s per person and is 99% accurate. In addition the Lilliput TMT-8 can be programmed to issue a particular alert when a person being screened is not wearing a face mask.






Camera
Pixels
RGB Cam : 2 Million / Infrared Cam : 1.4 Million
Image Size
1920 x 1080
Snap Mode
Panorama / Close Up
Display
Display Screen
7" LCD
Resolution
800 x 1280
Infrared Module
Detection
Infrared Thermal Image
Measuring Range
25°C to 45°C
Accuracy
+/- 0.3°C
Distance
30 - 60cm
Recognition
Abnormal Alarm
Available
Face Database Capacity
20,000+
Face Recognition
1:1 / 1:N
Recognition Mode
Offline Dynamic Portrait Mode + Double Eye Check Counterfeit Mode
Recognition Rate
>99%
Speed
<1 second
PC Specifications
Interface
LAN, USB, Relay Signal, Wiegand input, (Optional Wiegand Output)
Processor
ARM Dual Core Embedded Processor
Memory
2GB
HDD
16GB
Dimensions
Protection Rating
IP66
Size
Dimensions
220mm x 130mm x 24mm
Weight
1.5Kg
Power
Input Voltage
DC 12V 3A Power Supply
Power Consumption
<= 10W
Environment
Operating Humidity
20% to 90%
Operating Temperature
-20°c to +65°c
Lilliput TMT-8 - Face Recognition & Temperature Screening Terminal
Brand: Lilliput
Product Code:

Lilliput TMT-8

Availability:

In Stock
Tags: Lilliput TMT-8, TMT-8






Customisation Options Are Available


You can customise many options with all units of Lilliput product - from custom logos to input types to customised bezel and mounting options. To discuss your requirements please contact us via email Here or give us a call on +44 (0)8450068868