The AVMatrix SC1120 - is 3G-SDI to HDMI & AV Scaling Converter. Allowing for the input of an SDI signal, it can scale and convert the signal to both HDMI and A/V modes.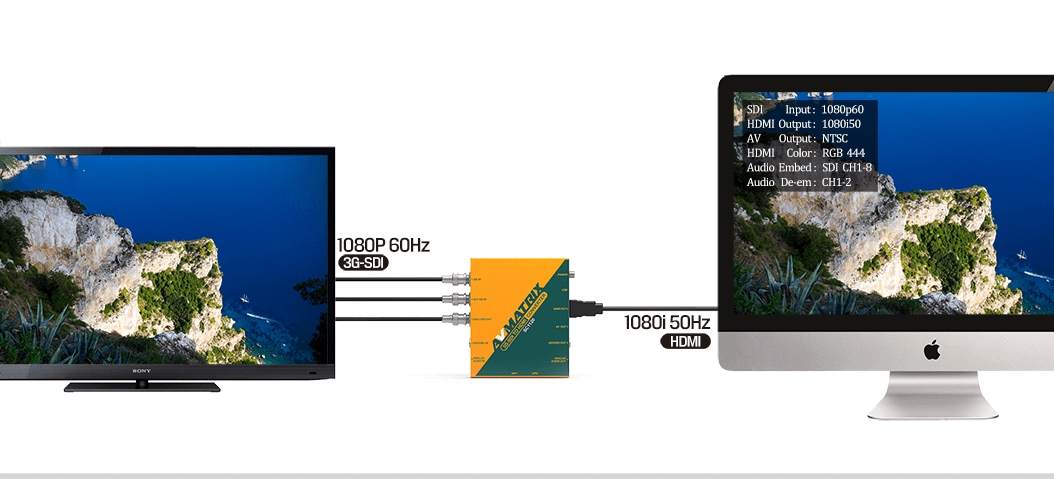 As well as the SDI to HDMI / A/V conversion, the signal can also be upscaled / downscaled and deinterlaced to prevent jitter and create a seamless video transition.






The SC1120 can also embed external audio into the HDMI output, and likewise de-embed the audio from an SDI input. No need to use custom cabling either - the SC1120 will use standard 6.3mm (1/4") or 3.5mm (1/8") jack plugs.


Input
SDI VIdeo Input
SD/HD/3G-SDI x1, Alternative 3G-SDI x1
AES/EBU Digital Audio Input
1/4" (6.35mm) TRS Jack x1
Analog Audio Input
1/8" (3.5mm) Jack x1
Output
HDMI Video Output
HDMI Type A x1
A/V Output
1/8" (3.5mm) Jack x1
SDI Video Loop Output
SD/HD/3G-SDI x1,
AES/EBU Digital Audio Output
1/4" (6.35mm) TRS Jack x1
Analog Audio Output
1/8" (3.5mm) Jack x1
Formats
SDI Input Format Support
1080p - 60 / 59.94 / 50 / 30 / 29.97 / 25 / 24 / 23.98 // 1080PsF - 30 / 29.97 / 25 / 24 / 23.98 // 1080i - 60 / 59.394 / 50 // 720p - 60 / 59.94 / 50 / 30 / 29.97 / 25 / 24 / 23.98 // 625i 50 PAL // 525i 59.94 NTSC
SDI Video Rate
SD / HD / 3G-SDI
SDI Compliance
SMPTE 259M, SMPTE 292M / SMPTE 424M
SDI Auto Switching
Auto Selects SD, HD, and 3G-SDI on input
SDI Color Space and Precision
YUV 4:2:2 / YUV 4:4:4 / RGB 4:4:4
HDMI Output Format Support
1080p - 60 / 50 / 30 / 25 / 24 // 1080i - 60/50 // 720p 60 / 50 / 30 / 25 / 24 // 576i 50 // 480i 60
HDMI Color Space and Precision
YUV 4:2:2 / YUV 4:4:4 / RGB 4:4:4
A/V Output Format Support
NTSC / PAL
Size
Dimensions
125.5mm x 104mm x 24.5mm
Weight
465g
Power
Power Connector
Threaded Locking Connector
Power Consumption
6W
Voltage Range
DC 12V
Environment
Operating Temperature
-20°C - 60°C
Storage Temperature
-30°C - 70°C
AVMatrix SC1120 - 3G-SDI to HDMI & AV Scaling Converter
Brand: AVMatrix
Product Code:

AVMatrix SC1120 - 3G-SDI to HDMI& AV Scaling Converter

Availability:

In Stock
Tags: AVMatrix SC1120 - 3G-SDI to HDMI & AV Scaling Converter






Customisation Options Are Available


You can customise many options with all units of Lilliput product - from custom logos to input types to customised bezel and mounting options. To discuss your requirements please contact us via email Here or give us a call on +44 (0)8450068868