MMV1630 is the perfect solution for a large broadcast project. One machine supports two modes, 16 channel SDI multiviewer mode and 16×16 SDI matrix switcher.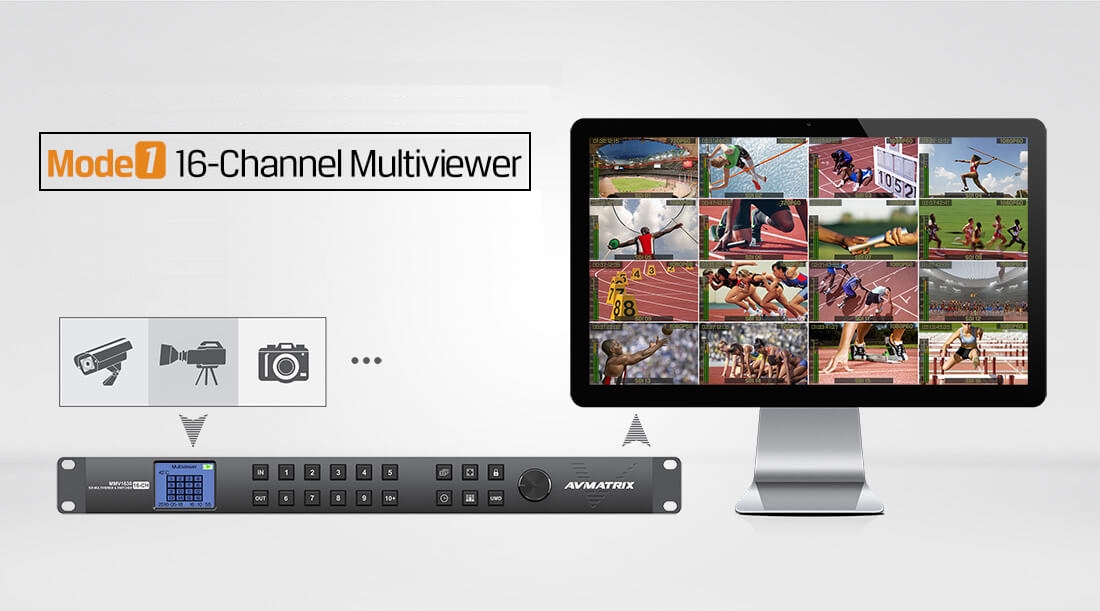 Mode 1 is a 16 Channel Multi-viewer. This allows you to input 16x separate SDI signals and output them to a single SDI or HDMI port. The unit automatically detects whether the input signal is SD, HD or 3G-SDI. The video format of multi-view output can be selected from a total 9 formats - from 720p to 1080p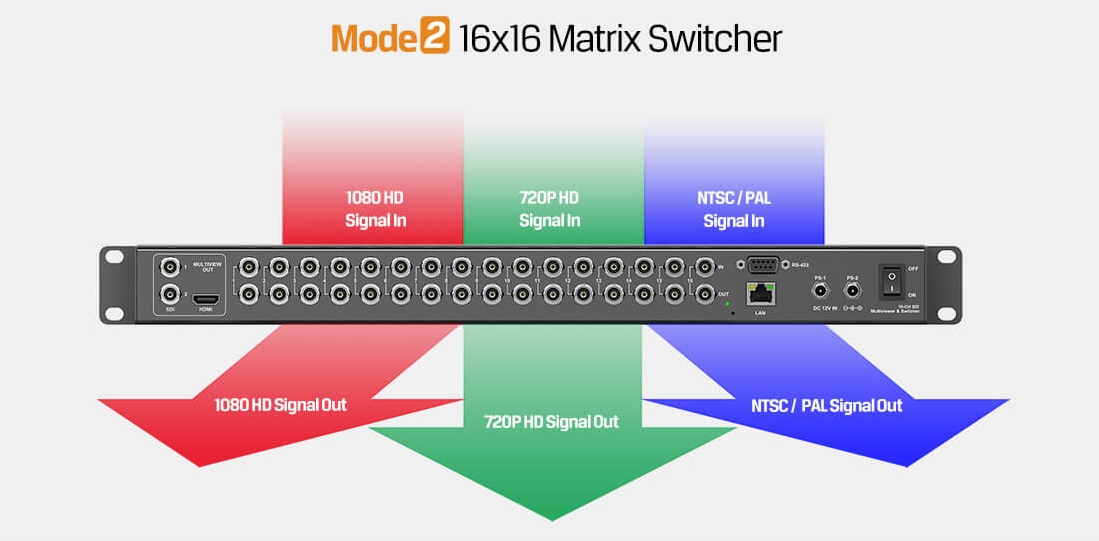 Mode 2 is a Matrix Switcher - meaning that you can matrix in as many different streams as you would want and out put them collectively or individually via the HDMI or SDI ports.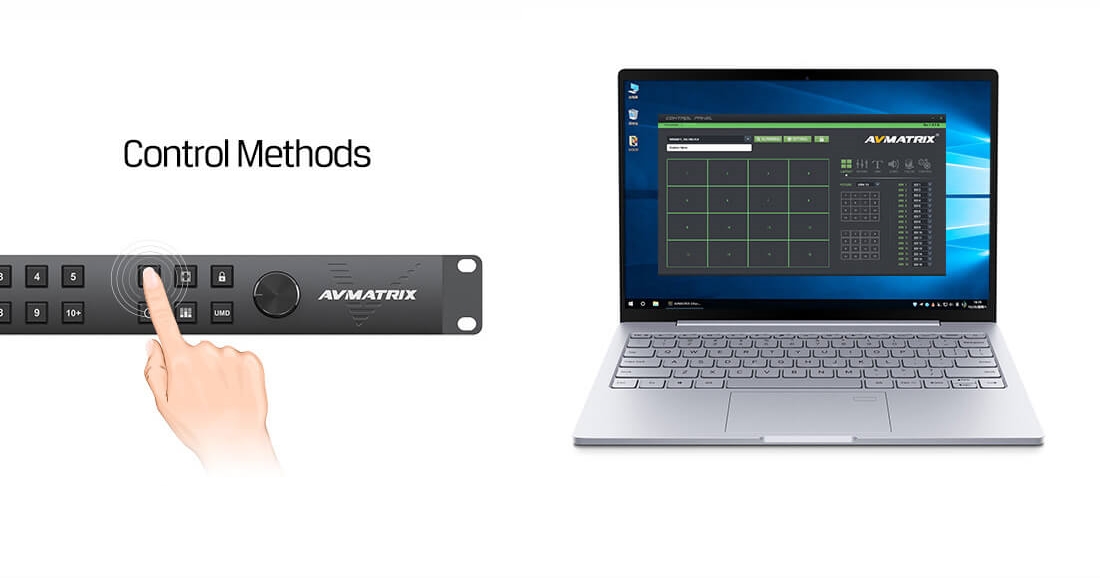 MMV16310 also supports UMD, audio meter, signal status and time code overlay.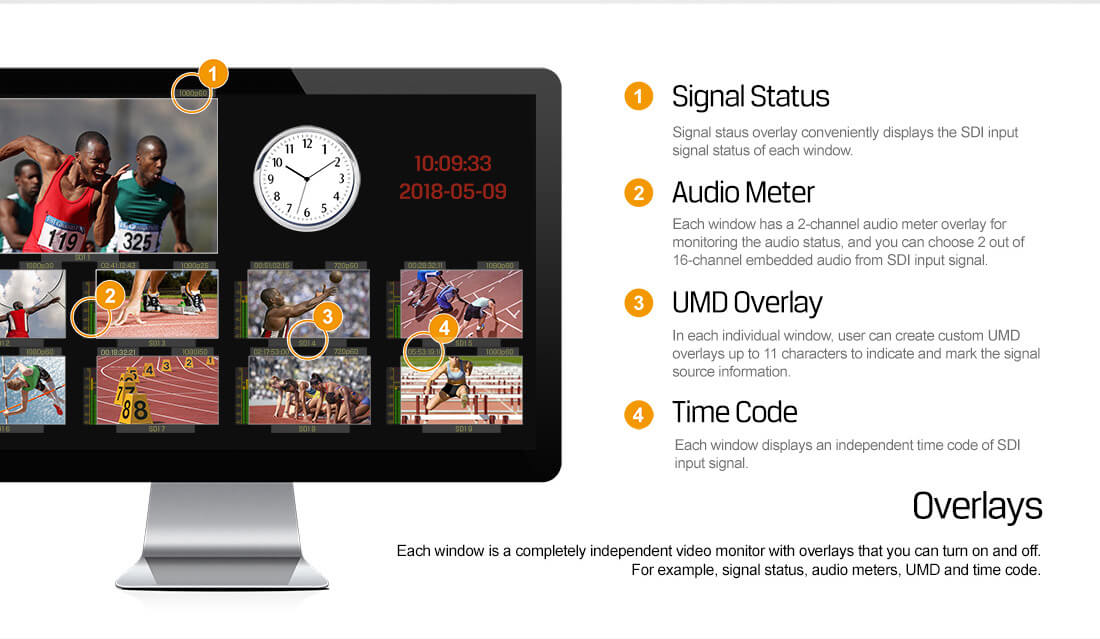 Multiviewer Mode
Inputs
SD / HD / 3G-SDI x 16
Loop Outputs
SD / HD / 3G-SDI x 16
Outputs
SDI x2 HDMI x1
SDI Input Format Support
1080p - 60 / 59.94 / 50 / 30 / 29.97 / 25 / 24 / 23.98 // 1080PsF - 30 / 29.97 / 25 / 24 / 23.98 // 1080i - 60 / 59.394 / 50 // 720p - 60 / 59.94 / 50 / 30 / 29.97 / 25 / 24 / 23.98 // 625i 50 PAL // 525i 59.94 NTSC
SDI/HDMI Output Formats
1080p - 60 / 50 / 30 / 25 / 24 // 1080i - 60/50 // 720p 60 / 50 / 30 / 25
SDI Auto Switching
Auto Selects SD, HD, and 3G-SDI on input
SDI Video Rate
SD / HD / 3G-SDI
SDI Compliance
SMPTE 292M / SMPTE 259M / SMPTE424M
Color Space and Precision
YUV 4:2:2 / YUV 4:4:4 / RGB 4:4:4 / XYZ 4:4:4
Switcher Mode
Inputs
SD / HD / 3G-SDI / DVB-ASI x 16
Outputs
SD / HD / 3G-SDI / DVB-ASI x 16
SDI Format Support
1080p - 60 / 59.94 / 50 / 30 / 29.97 / 25 / 24 / 23.98 // 1080PsF - 30 / 29.97 / 25 / 24 / 23.98 // 1080i - 60 / 59.394 / 50 // 720p - 60 / 59.94 / 50 / 30 / 29.97 / 25 / 24 / 23.98 // 625i 50 PAL // 525i 59.94 NTSC
SDI Auto Switching
Auto Selects SD, HD, and 3G-SDI on input
SDI Video Rate
SD / HD / 3G-SDI
SDI Compliance
SMPTE 259M, SMPTE 292M / SMPTE 259M / SMPTE 296M / SMPTE 352M / SMPTE 372M / SMPTE 424M / SMPTE 425M / DVB-ASI
Color Space and Precision
YUV 4:2:2 / YUV 4:4:4 / RGB 4:4:4 / XYZ 4:4:4
Controls
Control
Front Panel Buttons and Knob Control // LAN (Software Control and Update) // RS-422
Size
Dimensions
Standard 19" 1 Rack Unit Footprint
Weight
2 Kg
Power
Power Connector
Threaded Locking Connector
Power Consumption
36W
Voltage Range
DC 12-20V
Environment
Operating Temperature
0°C - 60°C
Relative Humidity
0% - 90% non-condensing
Storage Temperature
-30°C - 70°C
MMV1630 - 16 Channel Multiviewer & Matrix Switcher
Brand: AVMatrix
Product Code:

MMV1630 - 16 Channel Multiviewer & Matrix Switcher

Availability:

In Stock
Tags: MMV1630 - 16 Channel Multiviewer & Matrix Switcher






Customisation Options Are Available


You can customise many options with all units of Lilliput product - from custom logos to input types to customised bezel and mounting options. To discuss your requirements please contact us via email Here or give us a call on +44 (0)8450068868