Press Box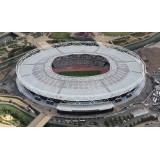 Monitors that are used in the Press Boxes of major stadiums and sporting venues. These 10" monitor units are ideal to be placed into press boxes and small viewing areas, primarily suited to being attached to existing video sources for the streaming in of statistics and video information to aid sports reporters, event commentators, and other types of viewers.
These units are hand picked as they have SDI / HDMI input sources, which are the most common types of video interface connection.
Give us a call on +44 (0)8450068868 if you'd like to discuss these monitors - we're here to help!

---
Showing 1 to 3 of 3 (1 Pages)