The AV Matrix MV4111 is a quad-view 3G SDI multiviewer, which supports PIP, POP and other user defined modes. Multiple formats are easily controlled by rotary DIP switch as well as RJ45 remote control software.
Features:-
Signal Converter - Professional Signal Converter for High Quality Up/Down scaling and frame rate conversion

Distribution Amplifier:-
With advanced equalization and reclocking technology, the MV4111is a high quality signal re-distributor
Multi-Viewer:-
Remote control access allows combination viewing for PiP and PoP modes, as well as other user-defined modes.
Signal Switcher:-

Switch between input types easily and smoothly, with no black screen or screen jitter.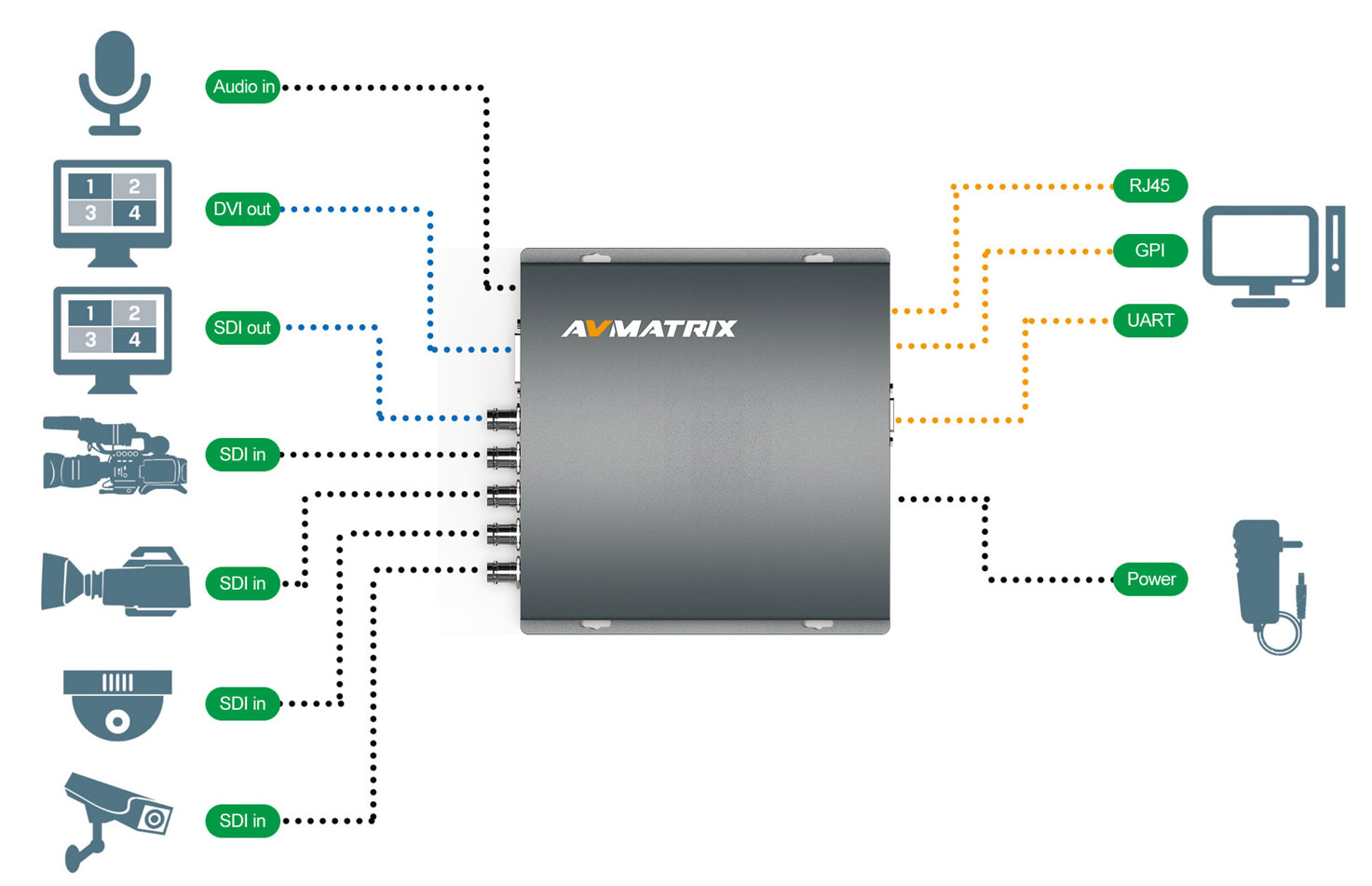 SDI Input
Bit Rate
19Mbps ~ 2.97 Gbps
Connector
BNC Comply IEC 169-8 standards
Signal Amplitude
800mV +- 10% (75 ohm)
Impedance
75 ohm
SDI Output
Bit Rate
270Mbps ~ 2.97Gbps
Connector
BNC Comply IEC 169-8 standards
Signal Amplitude
800mV +- 10% (75 ohm)
Impedance
75 ohm
Control
Control Port
RS232, RJ45
Baud Rate and Protocol
9600Baud, 8 data bits, 1 Stop Bit and white parity checking
Common Parameters
Operating Voltage
DC 5-12 V
Power
<2W
Weight
0.45kg
Dimensions
182 x 95 x 30mm
Working Temperature
0 ~ 50 degrees
Storage Temperature
-20 ~ 75 degrees
Working Humidity
20% ~ 70% RH
Storage Humidity
0% ~ 90% RH
Control
Baud Rate and Protocols
9600Baud, 8 data bits, 1 Stop Bit and white parity checking
Control Port
RS232, RJ45
SDI Input / Output
BNC Connector
BNC Comply IEC 169-8 standards
Signal Impedance
Input 75 Ohm // Output 75 Ohm
Bit Rate
Input - 19Mbps ~ 2.97 Gbps // Output 270Mbps ~ 2.97Gbps
SDI Signal Amplitude
Input - 800mV +- 10% (75 ohm) // Output 800mV +- 10% (75 ohm)
Common Parameters
Dimension
182 x 95 x 30mm
Operating Voltage
DC 5-12 V
Power
<2W
Storage Humidity (%RH)
0% ~ 90% RH
Storage Temperature
20°c - 70°c
Weight (g)
450g
Working Humidity (%RH)
20% ~ 70% RH
Working Temperature (°c)
0°c - 50°c
AVMatrix MV4111 - Quad 3G-SDI Multi Viewer
Brand: AVMatrix
Product Code:

MV4111

Availability:

Pre-Order